Before I hop into this blog, it's worth mentioning that whilst I'll try to give you a good and clear review of this car, driving it was the first time I've ever driven an automatic – meaning it's likely I couldn't fully experience this car properly because I'm simply not used to driving automatic cars. If you want to find out how that went, you can see my blog all about it here!
Disclaimer: All thoughts are entirely my own and do not reflect the opinion of Marmalade as a company.
In my short driving life, I have driven my instructor's car (a Toyota Yaris), my car (a Vauxhall Adam) and a short test drive of an Audi A1 – I don't think this classes me as someone who has experience driving a lot of cars… does it?
Anyway, I want to share my opinion with you on as many cars as I can. If you're in the market for a new car but aren't sure what you want, it's always good to hear first-hand what other young drivers think – so just think of me as your blogging test driving buddy!
First impressions
I think it goes without saying that the Polo is a slick and cool looking car. The demo I had the pleasure of driving was in a vibrant red colour and it draws your eye in straight away – I mean, look at it! 😍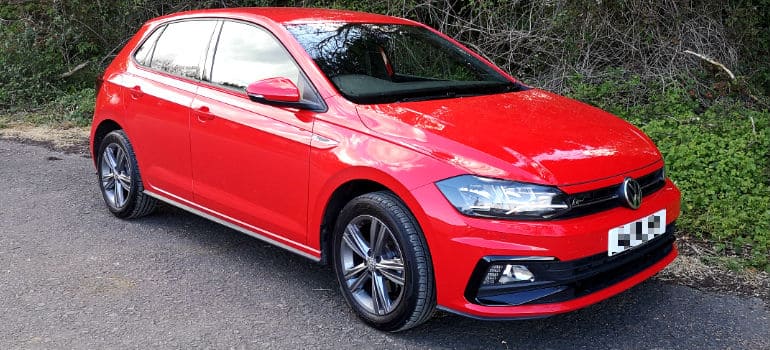 Before even hopping into the VW Polo you can start to see some cool features. For example, when you unlock the doors the wing mirrors move out and into position – which I suppose will be helpful to stop any damage to them when you're parked up!
The first thing I noticed when I got into the car was how low down I felt. Even moving the driver's seat into different positions didn't seem to make me feel any taller and as a short person, this was a little issue for me. Don't get me wrong I could still reach the pedals, but I felt almost a bit vulnerable being so low to the ground. Having said that, I do think this is something I could get used to – it would just take a little time.
I can't even turn the car on!
After getting my seat, mirrors and everything else into place – I went to start the engine. Simple enough, right? Wrong! This model is an automatic which meant I didn't have a clue what to do! Turning the key didn't start the engine, there was no clutch to put down and no button to press start… what do I do?! After panicking to a colleague who came to the rescue, I realised I had to put the brake down to start. Now I know this sounds simple, but after a year of driving with a clutch and gears, this was completely alien to me. It felt like I had forgotten how to drive!
After I managed to get the car going I put it into reverse and backed out of the spot. It was then I noticed the reversing sensors – something I haven't seen before! I was in an open car park so had no fear of hitting anything, but I can definitely see the appeal of parking sensors and how they will help drivers – especially new drivers like me!
After getting into position and putting the car into drive, I was off and finally, I could feel what it was like to drive this beauty!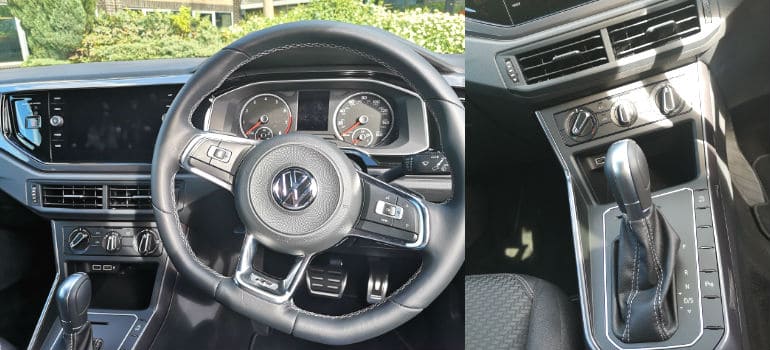 Getting to grips with it
After realising the brakes were much newer than mine and that I didn't have to press them so hard, I got more comfortable with driving it and was able to enjoy the interior, tech, and driving feel a bit more. The car felt super powerful, but I also felt very safe behind the wheel, which is a big thing for me - I could be driving the nicest car in the world, but if I don't feel protected as the driver, then it isn't for me. I didn't have that problem with the Polo at all.
The drive
As I've mentioned, this is my first time driving an automatic which means I don't think I've really been able to appreciate the driving style of this car. Having said that, even a quick 20-minute trip and I found myself getting more comfortable towards the end, so I don't think it's something you'd struggle too much to get used to if you haven't driven an auto before. There was even a nice footrest for me to put my left foot on which in the end, stopped the urge to put my 'clutch' down every time I hit the brakes.
When I was on an open bit of road and able to get up to the speed limit, I got there pretty quickly. Sometimes, mainly in my instructor's car, I felt like it didn't have too much power, which wasn't ideal when trying to get up to speed coming off a sliproad, or trying to overtake. I'm not a petrolhead, so speed, power, engine size, etc, don't impact my decision when buying a car, but the power on this one is a big selling point. It was quick, yet I still felt in control which is essential for me.
The tech, look, and feel
The tech on the inside of this car is amazing! It's everything you would need in a car (or at least, everything I wanted), without it being overdone and getting too complicated. I love my in-car tech, but I never want it to distract me from driving, and I didn't feel distracted at all. The touchscreen display was amazing and super easy to use. Everything was labeled as what it is, so you knew exactly where to go for phone connectivity and radio, etc. I feel like sometimes, car manufacturers can make the infotainment system a little too complicated which isn't for me at all – but the VW Polo does it perfectly.
Even though the car isn't huge on the outside, the inside had plenty of space! Sometimes in my little 3-door car, I know my passengers can feel a bit cramped - there's no worrying about that in the Polo. It's the practical side of the car I love too. Automatic lights, big boot space, Stop/Start engine - it's not just a car that looks the part, it also acts the part. If I had a Polo, I'd be pleased in knowing that wherever life takes me, I wouldn't need to change car!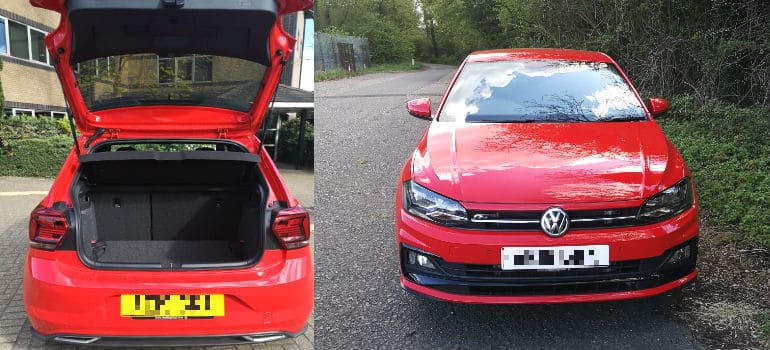 Overall – would I recommend the Volkswagen Polo R-Line?
Absolutely! The thing that sells this car for me is the overall look and feel. I mean come on, it's a beauty. It also benefits from not being too girly or too masculine, so it ticks all the boxes, I honestly feel this car would suit any new driver! It also feels really secure when you're driving it, so I felt safe behind the wheel and didn't feel vulnerable on the road - as a new driver, that's a huge bonus!
I think I've come to realise that after driving this car, you can get used to driving anything… really. I'm used to driving smaller cars where I sit higher up, so the lower seats were unusual but not a deal breaker. The automatic part, whilst it would take me a while to get used to it, I think I could (although I'd still opt for a manual every time!)