I've been driving for around a year – so I'm not experienced as many drivers when it comes to different types of car. If you keep up to date with the Marmalade Driver Hub – you'll see that recently I've been taking quite a few new cars for a spin. We sell so many brand new cars at Marmalade, and recommend taking them for a test drive before purchasing. Now I'm not saying my blogs and views on these different cars should determine what you get, but if you're anything like me (someone who likes cars, but doesn't know too much) then you're in luck!
Disclaimer: All thoughts are entirely my own and do not reflect the opinion of Marmalade as a company.
As soon as I saw the SEAT Arona in the car park, I became obsessed with it. It's like a big adult car, but small and compact enough that even I wouldn't look silly behind the wheel (I'm pretty short). So it goes without saying that I jumped at the chance to take it for a spin, although I was a little worried because it's bigger than anything I've driven before. This time, I also wanted to get passenger opinions – so my colleagues Emily and Cailyn came along for a ride.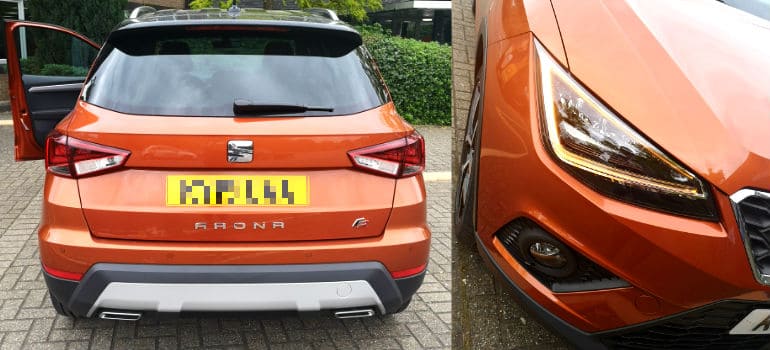 The drive itself
I think the motto throughout this whole journey was 'wow this car has some beans' – and it really did. I didn't feel like I was pootling around town as you can in some smaller engine cars. This car only has a 1-litre engine, which you would think would be a problem in a mini SUV, but it wasn't - I had plenty of power as the driver. I couldn't wipe the smile off my face the entire time I was behind the wheel – you couldn't even feel it when you changed gears because of how smooth it was. It also goes without saying that the addition of a 6th gear made me very happy. I can sometimes feel like my own car struggles in 5th gear at 70mph, but this one did not at all!
Now as I said, I brought some friends along to share the journey with, and I'm glad to report that they loved the car as much as I do. Aside from the fact that it looks amazing, they also mentioned how smooth the drive was. They also loved the way it looks, all the space in the front and back, and the design too.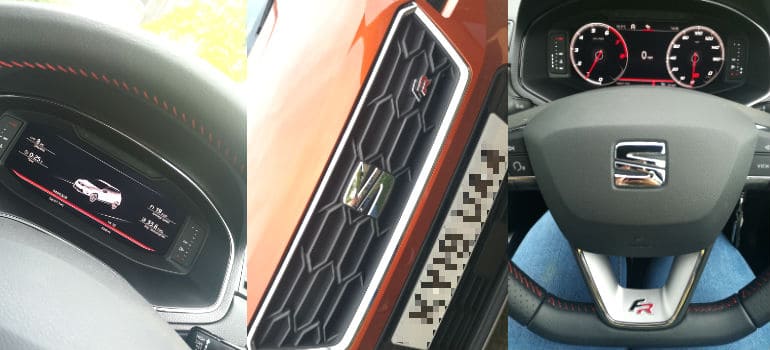 The look and feel
Even though this car is much bigger in size than other cars I've driven before, I didn't feel or look silly driving it (the benefit of adjustable seats and steering wheel helped me here). I think upon looking at it at first, you'll wonder why any young or new driver would want a small SUV, but it really got me thinking. Life can change a lot over the course of a 3/4 year finance on a car. If life changes – if you need to move house, or you have a child – whatever it may be, this car is going to be pretty handy because it's so spacious. Of course, if none of those things happens for you whilst you have this car, you still have the pleasure of driving it – and that's pretty special in itself.
How could I not mention the look of it? I mean... come on.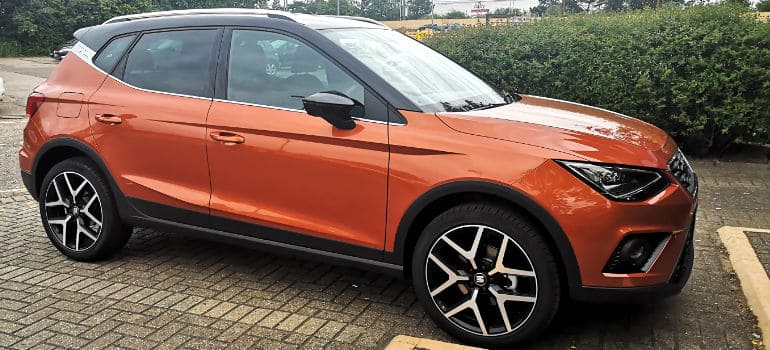 What's even better is that I know you can customise the colour of the Arona, and have contrasting roof and body colours, so you can basically have this amazing car in any colour and style that suits you. I also absolutely loved the fact that this car stands out in a car park. Yes, my test drive involved stopping off for my lunch at a supermarket (so glamorous). I felt stylish and cool when parking it which, by the way, was pretty simple to do as it has reversing sensors, and felt really special as the driver when pulling off again.
I kept saying that when driving if I felt like an adult. Now I know, I'm 23 and by law, I'm a fully-fledged decision making grown up, but if you've ever jumped from a smaller car to a bigger one, I think you'll know what I mean. I felt mature and sophisticated, but not out of my depth and trying to be someone I'm not. I think it's fair to say that I fell a little bit in love with this car.
The technology
The tech, aka, quite possibly my favourite parts of the car, is what would be a big selling point for me. It wasn't until I actually got back and stopped the car that I took time to look at all the cool features the car came with. One of my absolute favourite things in this car is the built in Sat Nav, and more importantly, where it is in the car. Yes, you can have it on the infotainment screen in the middle as most people do – or, you can move it and have it between your mph and rev gauges. This makes perfect sense! You won't have to worry about the awkward angle of the screen, or if the sun is hitting it and making it impossible to see the direction you need to go. This feature allows it to be directly in front of you, making journeys a lot easier if you're using the Sat Nav.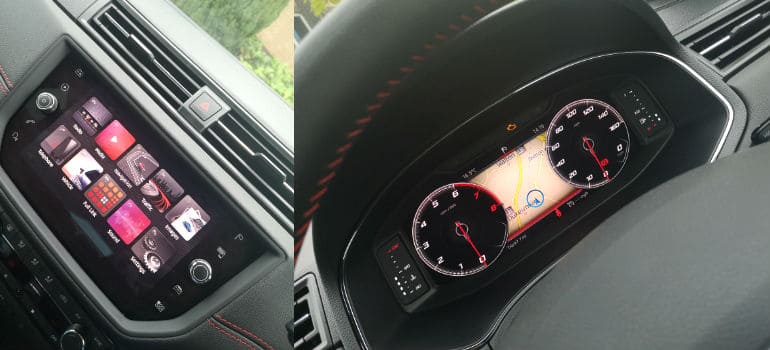 I also loved the fact that this infotainment system allows you to connect Android Auto, Apple Car Play or Mirror Link. If a car is restricted to Android or Apple, it can be a bit of a pain if you're one of the other – no worries with this car though, have any phone you like. It even has 2 USB slots, meaning you and your passengers can charge your phones on the go.
Overall thoughts and opinions?
Honestly, whilst the size and SUV style of the car worried me at first, I didn't worry about anything when I was in it. I absolutely love everything about it! I would suggest if you're a new driver who is considering this car, or another mini SUV style car, to definitely take one for a test drive first, especially if you've learned to drive in something much smaller. A bigger car like this one may not be for you, which is absolutely fine – but if you're planning ahead and thinking how your first car will benefit you for 3/4 year or maybe even longer, I'd suggest looking into something like the SEAT Arona – you won't be disappointed!