As a young driver, whilst I like to think that reading reviews about cars from petrol heads will help me when it comes to choosing my car, it really doesn't. I want to know what other young drivers like and dislike about different cars. Forget the horsepower – this isn't Top Gear – tell me what it's really like to drive and help me decide if this could be the car for me. Well, your wish (or my wish) is my command. Here at Marmalade, we get lots of demonstration cars for us to test, so we can let you know what you'll be getting when you buy a car from us. I recently took a brand new Audi A1 for a spin, and I wanted to let you know exactly what I thought.
Disclaimer: All thoughts are entirely my own and do not reflect the opinion of Marmalade as a company.
Driving something completely new
Other than my car and the car I learned to drive in, I've never driven anything else. I passed my test around a year ago so for the last 12 months, I've only known the Vauxhall Adam. Needless to say, I was pretty nervous when the opportunity came up for me to drive the Audi. I had no idea what it would be like and since driving is pretty dangerous as it is, this made me worry. But I was excited. I mean we all dream of having an Audi or something similar, don't we? I love the concept of the Audi A1 – it's like a dream car that young drivers can actually get their hands on! 
First impressions
I had always imagined the Audi A1 as a little car, so didn't expect it to be worlds away from my 3 door car, however, even seeing it for the first time I knew it was a lot bigger. This one had 5 doors, and overall just looks bulkier than most small hatchbacks, but not huge. Audi got it spot on when they say 'it's not a small car, it's a small Audi'.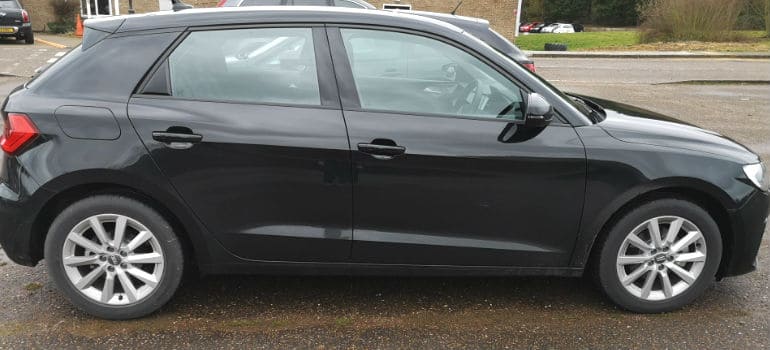 Getting behind the wheel for the first time
When I first got in the driver's seat of the Audi A1, I was completely overwhelmed. There were buttons, switches, screens and so much more tech than I'm used to. It also took me a good few minutes to realise there was nowhere to put the key – it was a stop-start so all I had to do to get the car running was press a button. I wanted to spend a few minutes figuring out what buttons and switches did what, but I knew this would have meant really looking through the manual and like most young drivers, I just wanted to get going! So ignoring my better judgment, I just went for it. I put it in reverse, backed up, switched to first, and pulled away!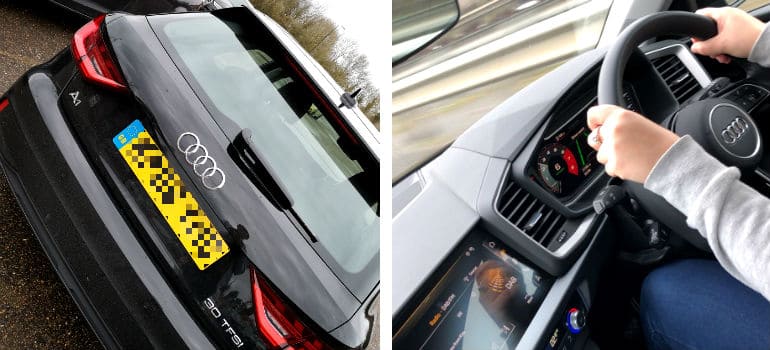 How did it drive?
It had a lot of power which is something I'm not really used to. It took the slightest pressure on the accelerator to really get the car going which was pretty cool – although it did make me realise how powerful the car was. Who let me loose in this?! I'm not technical at all, so I don't know the correct terms – but the drive was so smooth. Pulling away, changing gears and the overall feel of the car was amazing. It almost felt effortless to drive, even though it is a lot bigger than I'm used to. The only issue I found was the brakes. I had no idea how sensitive they would be, so needless to say when I pressed the brake as I would in my own car, I nearly flew through the windscreen. However, after a couple of times using the brakes, it did get better – it's likely something you'd just pick up and get used to if it was your own car.
Why didn't I listen to myself?
As I was pottering around town, moving from stop-start traffic to doing 70mph down the parkway – it started to rain. Not a problem, I'll put the windscreen wipers on.
All the switches, buttons, and tech I mentioned? Yeah – this meant I had absolutely no idea how to turn the windscreen wipers on. After pressing who knows what, changing lights, and fiddling with cruise control (I think) I worked out how to put the wipers on. I would say to anyone getting this car, or any car, read the manual first. My excitement to drive this little beauty got the better of me, leaving me in a rain-covered panic.
Some of my favourite features
When I actually looked at the features of the car, there were so many cool options. Everything was digital so felt really new and fresh. There were different heating options, music options, and driving options – it honestly felt like you could mold it to exactly how you wanted it! It was also super comfortable and I honestly felt like I could happily sit in it driving for hours. Another favourite was, and I know I've mentioned it briefly, but how spacious the car is! Before driving it I obviously knew it was a 5 door so this did make me nervous as I'm only used to driving a little car. When it came to driving it, however, it didn't feel big at all! I thought it would feel like I was driving a tank but it was nothing like that. I could reverse out of spaces and turn in the road with ease.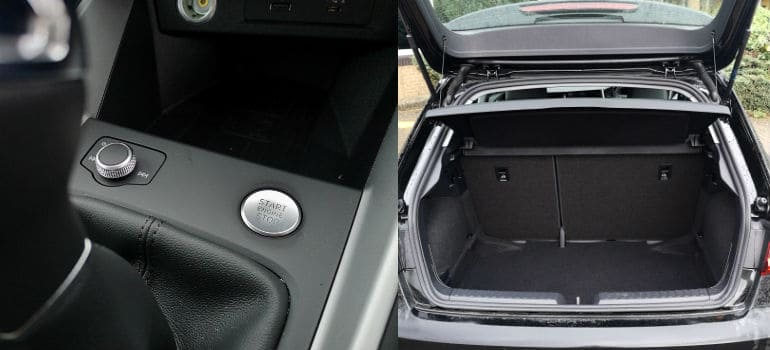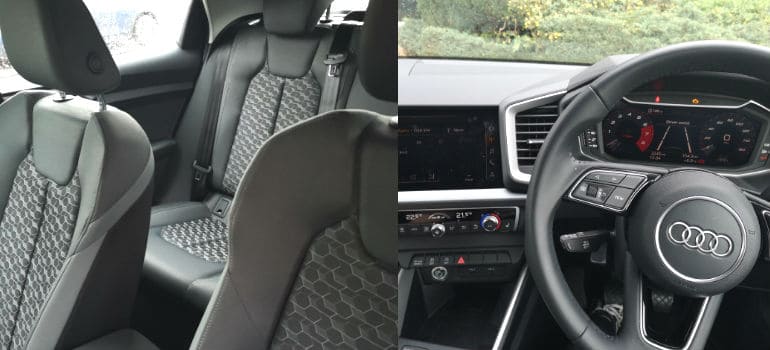 What would I change?
The only really small bugbear I found with the Audi A1 was that next to the clutch was something I can only describe as a footrest? I'm not sure if this is a normal feature in other cars, and it's likely something you'd get used to, but I found I was accidentally putting my foot on that instead of the clutch! Also – and this is likely due to me being a Nervous Nelly, I would worry about driving this car if I was new to the roads. Of course, it depends on what you learned to drive in, but the thought of hopping from my instructor's Toyota Yaris to this beast is scary. I'm not sure I'd trust myself to drive this solo as a completely new driver. I think I'd have to take some time to really get used to it first.
Overall impressions
I absolutely love this car. I know Audi's are more money than perhaps other options for young drivers, but it really feels like you'd get your money's worth – and it felt like it will last for a long time! It's small, so great for parking and maneuvers, but it's also big on the inside, with 5 doors and a pretty spacious boot – meaning it will be perfect for when life changes and you may need a car with a bit more space inside. I am completely hooked on this car and it's a serious contender for my next ride.