If you're an avid reader of the Marmalade blog you will know I often get the chance to take new cars for a test drive and let you know my honest opinion. If this is the first blog you've seen, hi! I'm Chloe, and I'm the social media exec at Marmalade but more than that, I'm also a young driver (well, I'm 24 so I'm clinging onto being a young driver for as long as possible) so I like to test drive cars that are 'perfect' for those who are new/newish to the roads and give you my honest feedback. No, I'm not here to tell to you run out and buy all of the cars I talk about - I am here to tell you in real terms what I like and don't like about all the cars I drive. I'll give you my real opinion and hopefully this may help some of you if you're in the market for a new set of wheels. If not, well I'm sure it'll be a nice read any way!
Disclaimer: All thoughts are entirely my own and do not reflect the opinion of Marmalade as a company.
The new Vauxhall Corsa
I first saw the new Corsa design around a year ago and was pretty shocked by how different it looked from the previous model – it was hard to believe it was actually a Vauxhall Corsa! It has a more sophisticated look than the old model It is sharper and comes with an option of two tone paint work so you can customise them to suit you – I described it as the Vauxhall Adams cool older brother. Since then, I have been desperate to drive one. Throw in a pandemic and all these months later, I finally got my chance! As you may know from previous blogs, I own a Vauxhall Adam and love it – it was the perfect first car for me, so I was super excited to get behind the wheel of the new Corsa and enjoy everything it had to offer. I had the pleasure of taking the 1.2 Petrol for a test drive, so my review is based on that.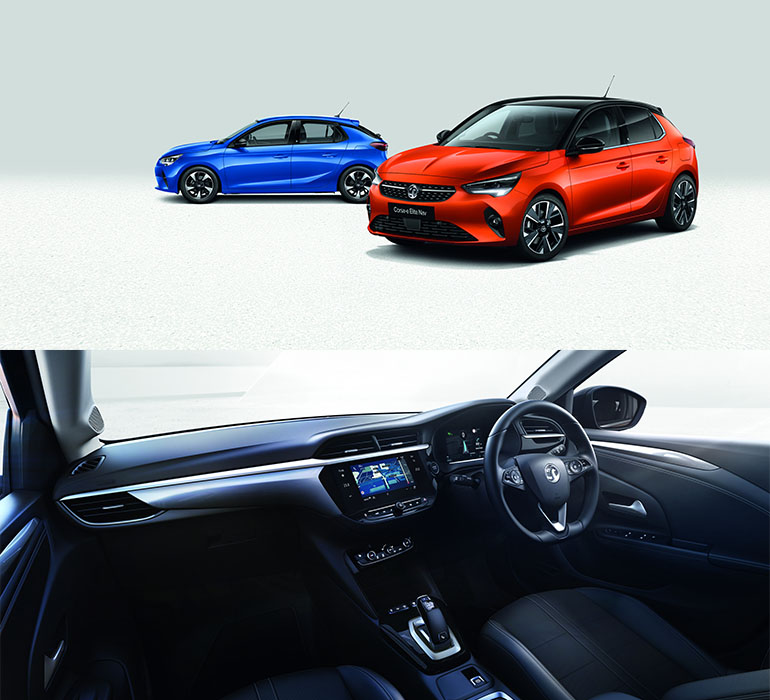 The look and feel
If you haven't seen a picture of the new Corsa before, here it is! What do you think? As soon as I saw it I loved it. It's completely different to the old Corsa which I think intrigued me even more. I'm also a huge fan of any car that can look good in Orange and this one definitely does; I mean come on – look at it! The one I got to test drive was Grey so whilst it wasn't the Orange I'd hoped it would be, it still looked amazing, and would be a great option for anyone who doesn't want a bright coloured car!
One thing about the new Corsa is that they all come with super quirky alloys as standard and they look amazing. I don't know if alloys actually make driving it feel any different, but they're really nice so it's a bonus either way. Another thing that made me really like it was even just from looking at the exterior, you knew it was a bit more grown up than the old Corsa. It still looked exciting and like it would be fun to drive but also looked like a sensible and sophisticated option for a car, if that makes sense? Either way I knew I was excited to get behind the wheel and drive it!
The interior and tech
The sleek style from the outside of the car is carried inside, and you instantly feel happy behind the wheel, or at least, I did! There is so much more space on the inside than previous models, but it doesn't feel like you're sat in a huge car that's out of your control. There's a 7" infotainment screen in the new Corsa too which has the perfect amount of touch screen paired with actual buttons. I don't know about you, but when everything is controlled by touch screen, I can feel a little overwhelmed (maybe that's just the Grandma in me)!
Another big plus for the new Corsa for me is that it has 5 doors as standard, meaning passengers benefit from having their own door, because is there anything more annoying than finding the perfect position for your driver's seat and then having to move it for someone getting in the back? I think not. You also get a fair bit of boot space in this car too, but it's not too long or big when driving and parking, it still feels like you're driving a small compact car which is what I look for. I went for a trip to IKEA in it – parking was a breeze and I had no problem putting all the pointless homeware and snacks I'd purchased in the boot so it was a win win. 
What it was like to drive
As soon as I got in the car, I set up my seat, checked my mirrors and started the engine. I know, I say all the time I should read the manual, but I felt as an owner of a Vauxhall, I'd already know where the buttons and switches are… right? Wrong. It started raining and I didn't know how to turn the window wipes on – why am I like this?! Once I'd figured that bit out, I could get on with getting a real feel for the car.
I was fully expecting the new Corsa to feel the same to drive as the old model. This is mainly because the old model feels pretty similar to drive as my Vauxhall Adam does, so I just assumed that they would all drive the same. It turns out this wasn't the case; it actually took me a good few miles to get used to driving it. The clutch had a different biting point and the brakes were a lot sharper (possibly because it was new and not done that many miles). Once I got the hang of these things though, I felt completely in control of the car. I knew I would easily be able to drive this through tight city streets as well as feel safe taking it on the motorway for longer trips. Some cars feel great for one but not the other, but this ticked both boxes easily. It has power, but not too much – so it gets you up to speed quickly enough, but not so quickly that you feel like you're taking a qualifying lap at Silverstone.
Passengers also commented on how much they liked the car, and not just the new car smell! They said how much room they had, and smooth it felt sitting in the passenger seat and how much they wanted to take it for a drive too – it's definitely a crowd pleaser!
Scoring this car out of 10?
Writing this section and I'm sat here thinking if there was anything I didn't like which would knock down my score, but I can't think of a single thing – so it's got to be a 10/10! It's roomy, powerful, stylish, comes in a great choice of colours (cough… orange) and has plenty of tech but not too much that it takes away from actually driving. The benefit of having 5 doors but not feeling like you're driving this massive, out of control car around means it'll see you through whatever the next few years of your life throw your way!