If you often read the Marmalade blog, you will know that we love nothing more than to review the newest cars for young drivers. As a fairly new and young driver myself, I thought I'd share my opinions on the brand-new Fiat 500 Dolcevita hybrid.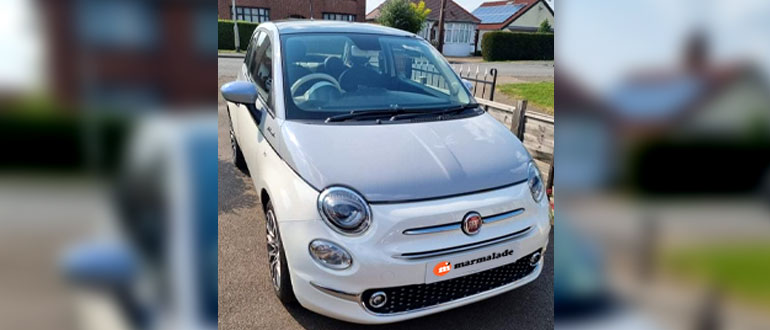 This Fiat 500 hybrid review will cover everything from the fancy leather interior to the super technical bits that go on whilst driving the car. I'll give you my honest thoughts as to whether I would buy this car for myself. We've even made a video, which gives a summary of my review!
Disclaimer: All thoughts are entirely my own and do not reflect the opinion of Marmalade as a company.
Fiat 500 Video review
Have a full tour of the interior and join me on an adventure as I get to grips with, and review, the brand new Fiat 500 Dolcevita edition!
A tour of the inside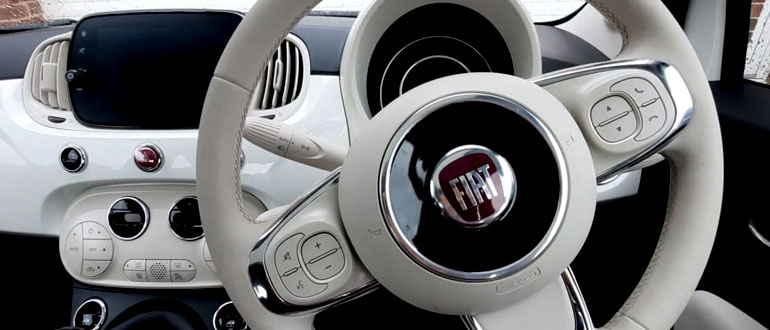 There is no way I could write a review on this car without mentioning the interior. As soon as I sat behind the wheel of this car, I couldn't believe the difference that the white leather interior made to my driving experience. A combination of the large, panoramic sunroof and windows with the cream-coloured seats, steering wheel and dash ensured the light poured into the car, giving me the best visibility of the road ahead. 
Safety first
I also felt very safe with the knowledge that all Fiat's come with 7 airbags as standard. Certain features in the car, such as automatic lights, wipers, and gear shift reminders, took some of the stress of driving out and allowed me to enjoy the music and scenery a bit more. Don't even get me started on how good the aircon and heating were which made every drive enjoyable no matter what the Great British weather threw at me!
Technology galore
The 5inch U-connect screen placed in the centre of the dash was a luxury for me and I really enjoyed the TomTom Satnav, Bluetooth connectivity and DAB radio which all rolled into one very handy piece of tech. The display behind the steering wheel also showed me key information about routes as well as the battery level. There was also a lot of tech dotted around the front of the car too - which I still hadn't explored fully by the time I had to hand the car back! On my last day with the car, I found out that you could ask the car to turn the air con up/down - imagine my shock when driving 60mph and accidentally pressing the button on the steering wheel, only to hear a loud voice appear from nowhere!
The Tardis effect
Despite the Fiat 500 being a small car, the inside felt very spacious and I could have easily fitted 3 extra passengers alongside me. The boot was fairly small, but it still managed to fit my 2 foldaway chairs and a large canvas bag with extra room to spare. The folding back seats allowed for more space if needed for larger items such as a suitcase or heavy boxes. I'd also like to take a moment for the number of compartments within this car as well as the placement of the cup holders which came in super handy for all of my trips to the coffee shops!
Thoughts whilst driving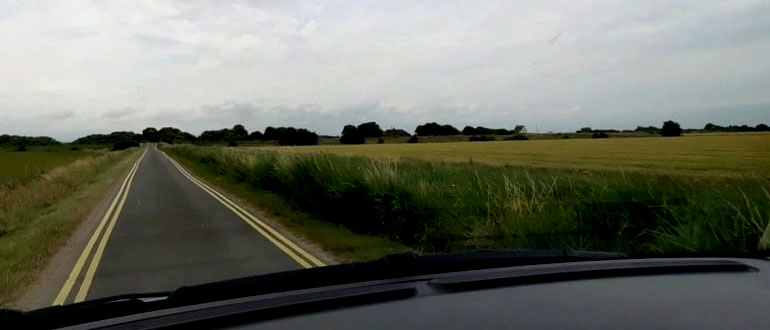 Pros and cons
To begin with, I have to admit, I was not the biggest fan of how the Fiat drove. However, I soon started to really like this small car despite my first impressions. As I am giving a fair review, I will share my only 2 negatives with you:
I found the pedals were a lot lighter than what I am used to and it definitely took a bit of getting used to. After a couple of trips around town, I soon became accustomed to the pedals, and it didn't bother me at all. 

The seat positioning took a bit of getting used to as I was unable to adjust the height as the lower part of the seat could only be adjusted on a tilt. Being quite tall this made me feel as though my head was poking through the roof, however, it is important to bear in mind that my current car is a Mini and I am basically sitting on the floor in that! 
Once I had adjusted to the car a bit more, I decided to really put it to the test and take a long trip to the beach. I found the car handled all types of settings extremely well from quaint, narrow villages to fast dual carriageways. Although it could handle all types of road and journey lengths, I found that it was better on my pocket when being used for small trips. When I did have to fill up with fuel, it only cost just over £30 for a full tank of petrol.
Better for the environment
By now, I think it is common knowledge that hybrid technology and electric vehicles are going to be the future of motoring. So, I was interested in learning more about how these types of cars work in the drivers' favour. This model was Fiat's brand new three-cylinder mild-hybrid which meant that the car used a combination of an internal combustion engine and electric motor to save on fuel expenses and emissions. As the name entails, it was only a mild hybrid therefore it was not enough for the car to be powered on electric itself. To be honest, I couldn't tell the difference between my car compared to this but overall, I was pleased that I was reducing CO2 emissions by up to 30%.
Favourite features
Features such as the cruise control and speed limiter helped me to control my speed throughout my journeys. The hill holder function held the brakes for me which made it easier and safer to start when on an incline. Due to the small size of the car, it was very easy to fit through small spaces which came in very handy when coming face to face with caravans and campervans on the narrow roads near the beach. When driving in more built-up areas such as town centres, the city steering option made it easier to manoeuvre around town and made parking a doddle! The addition of parking sensors around the car allowed me to feel much more confident when parking and I even reverse-bay parked, which is something I rarely have the courage to do normally. 
Fiat 500 review - the verdict!
The additional features made this a much more enjoyable car to drive, and it really would have helped me when I first started driving. I think it is important to remember that cars are going to become even more jam-packed with technology in the next few years so it's best to get used to it whilst starting out on the road and get ahead of everyone else! 
Although we started off having a love/hate relationship, I ended up really loving this small, nippy city car. Overall, I think this car is a perfect first car for any new or learner driver and if I didn't already have my beloved Mini, I would consider buying a Fiat 500 Hybrid.