Hey everyone, My name is Megan, I'm 23 and live in Manchester. I recently got my hands on my first car and I wanted to give you my honest review – not only of the car but how I came to make the decision. If you're in a situation where you're looking to get your first car, I hope this helps!
First things first – getting my licence
After what felt like a lifetime of driving lessons on and off from the age of 17, poor instructor decisions and around a million tries at both my practical and theory tests,  I finally passed my test last August aged 23.  I think it goes without saying that after all that hard work, buying my first car was a pretty big deal – and I finally bought my first car, a gorgeous little Fiat 500 Lounge edition!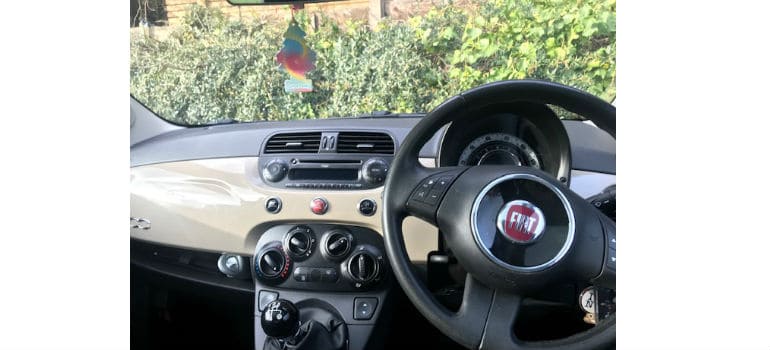 Finding the right car for me
I have had my car a little over two weeks, so not long at all and I'm still getting to grips with, not only driving this car, but driving alone without my instructor or supervisor beside me. My Fiat is helping me get used to being on the road as a new driver! When you are used to having your instructor to rely on, it can be quite scary driving by yourself, but the sooner you can do it the better.
I'm also insured on my boyfriend's car, another small 'city car' which is great for first time young drivers. He has a very girly Kia Picanto - in the shade baby Blue Breeze!
Top tip: If you can convince someone in your family or a friend let you drive their car as a learner driver whilst doing lessons, this really helps you gain experience and of course, confidence!
I test drove a Fiat 500 Cult edition a few months ago but in the end, it was a little out of my budget being the highest level trim. Then, I tried out a Pop which is the most basic, entry-level version but after being in the Cult, with its leather seats, glass sunroof and all the cool tech, the Pop just didn't compare. So in the end, I decided on the Lounge model as a sensible compromise being the mid-range between the Pop and the Cult. I chose to finance my car on Hire Purchase over 4 years – I now make affordable monthly payments and I will own the car at the end, which was really important to me and why I chose this option over a PCP deal. I also thought as I plan on keeping the car for the full 4 years, I'd go for something that little bit nicer!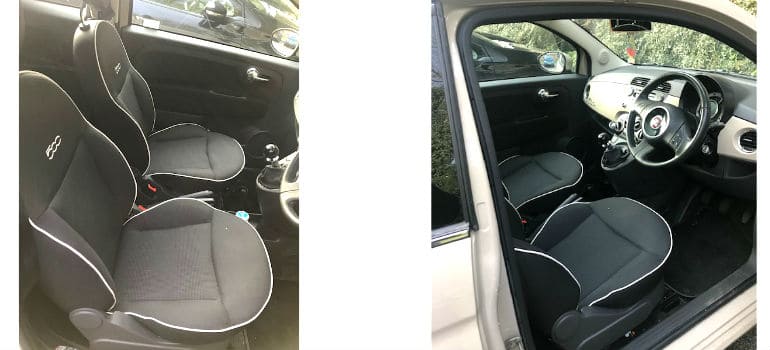 What I love about my Fiat
Although the Pop is the most affordable way into a Fiat 500 and a great first car, it's also the most basic and is 100% 'no frills' - with no Bluetooth connectivity, air conditioning and other features. I also preferred the Lounge interior with its leather steering wheel, gorgeous half-leather seats, panoramic sunroof and Bluetooth system so you can take calls and listen to your music whilst driving.
I wanted something small that would be easy to manoeuvre as well as being economical in terms of road tax (literally just £30 a year), and petrol efficiency - it has really good Miles per Gallon which means I get plenty of miles out of a full tank of fuel and of course, young driver insurance really isn't cheap (especially when you live in the centre of Manchester) so being low on insurance was a real deciding factor too. Not to mention, it just looks really cute too - it's definitely a fashion accessory!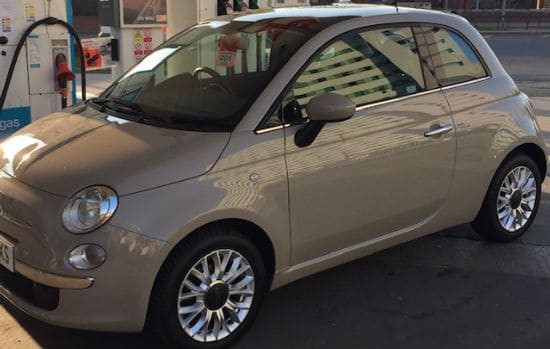 What I would change about my Fiat
If it's not already obvious, it is a very, very small compact car which means there's not much storage, for instance, there isn't even a glove compartment - it's literally just a shelf. I do generally prefer 5-door cars but as this is my first car, I wanted something smaller and easier to drive. It's a bit of squish in the back with only two seats (especially if you've got tall passengers) - but apart from that, I've found it great, really easy to drive and very economical which were the main things that I was looking for in my first car.
Overall out of 10?
A strong 8 out of 10! It's everything you need in a first car. It doesn't drink petrol and is affordable for me both in terms of petrol and insurance. Most of all, it's just really enjoyable to drive especially for someone who is still getting used to driving independently. It doesn't feel cheap either, it's really smart, you've got all the tech you need, beaut interior with a vintage look and feel. What more could you want?