We all remember our first driving lesson. For many of us, keeping our eyes on the road while manually shifting gears was the main struggle of early lessons. In Britain, 90% of driving tests are still passed in manual cars, but the production and distribution of automatic cars continues to rise. In 2017, there were estimated to be 8.4 million cars on the road fitted with automatic gearboxes - around 40% of all new cars on the road that year.
Will this change how learners are taught to drive in the future? When will automatic cars surpass manuals as the preferred vehicle of choice for driving tests? We have compiled DVSA driving test data from the last five years to find out. 
We have also used Google's Keyword Planner data to find out where in the UK learner drivers are most excited by the prospect of learning to drive in an electric car. If automatics are set to surpass manuals as the vehicle of choice in future, it is likely we will see electric vehicles (EVs) play an increasingly important role in teaching learners how to drive - with more lessons and driving tests in EVs.
How many UK driving tests are passed in automatic cars?
In the past year, we can see that almost 11% of passed driving tests in the UK were taken in an automatic car. The proportion is slightly lower for male drivers at 6.4%, and slightly higher for female drivers at 15.7%. We can also see that the popularity of automatic cars for tests has increased in the last five years. In 2015/16, just 6.3% of tests were taken without a clutch pedal, but this increased to 10.9% in the most recent data set (2019/20).

From this, we can see that learner drivers are slowly starting to make the switch to automatic cars. Despite generally being more expensive, they do offer long-term savings on fuel efficiency and are easier to drive. When faced with the high-pressure situation of your first driving test, gear changes in an automatic car give the driver one less thing to worry about, and can potentially ease the nerves of more anxious motorists. 
Which regions of the UK have the most automatic driving test passes?
With around 1 in 10 driving tests in Britain now being passed in an automatic car, which parts of the country are most reliant on no manual clutch to pass their test? To answer this question, we used the most recent dataset available from the Office for National Statistics (ONS) - 2019/20. In this year, almost 80,000 automatic drivers passed their test - and almost a quarter (24.1%) of those were in London.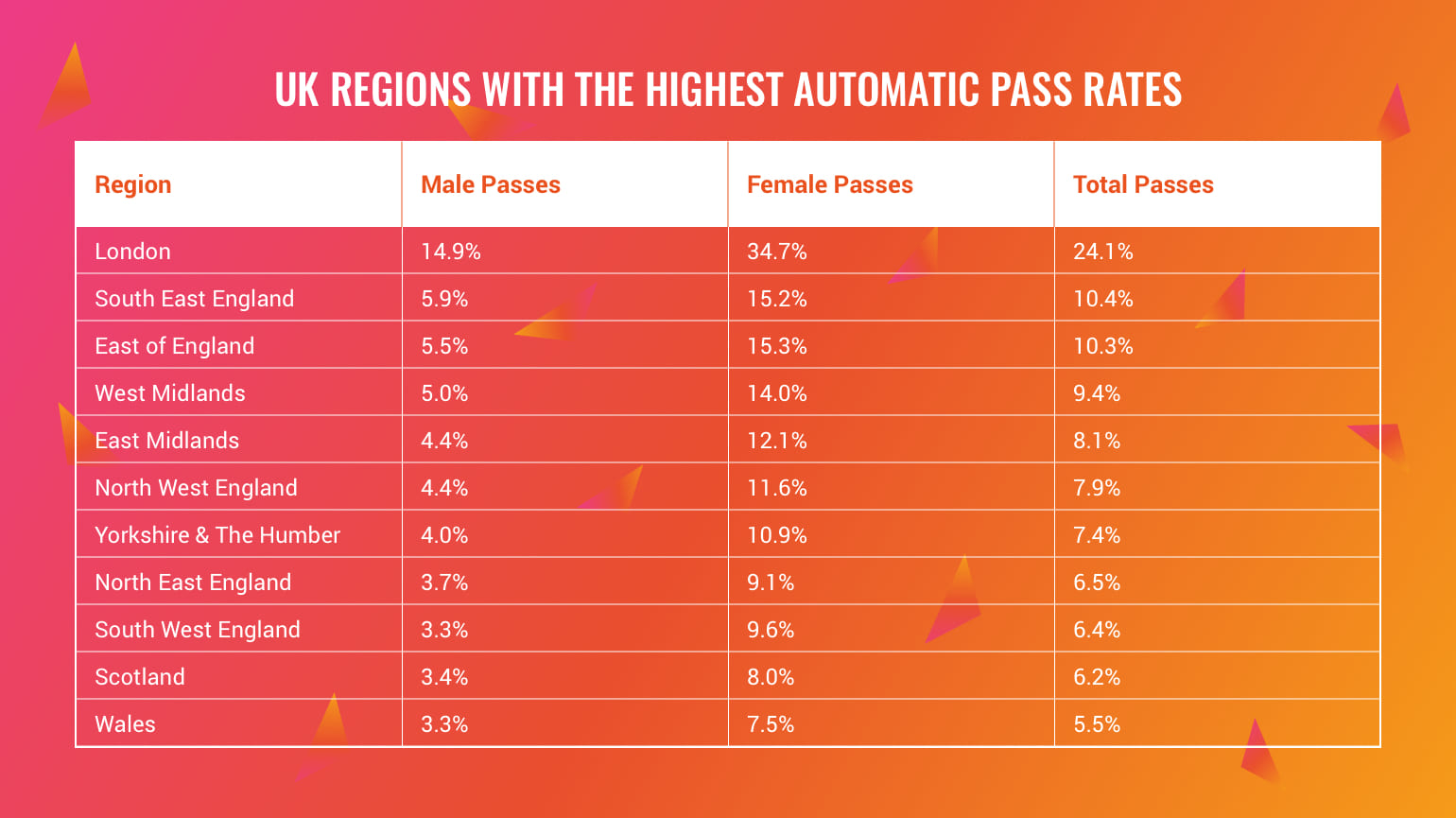 The South East of England had the second-highest proportion of 10.4%, with Bletchley in Buckinghamshire seeing 19.5% of its tests passed in automatic cars. This was closely followed by the East of England (10.3%), with 18.5% of auto transmission passes in Luton. At the other end of the scale, just 5.5% of learners in Wales didn't pass their test in a manual car. Cardiff's Llanishen district had the highest proportion with 8.4% - but this is considerably lower than the boroughs of London.
Which UK towns have the most automatic driving test passes?
With almost a quarter of learner drivers passing their test in an automatic, it's no surprise that the test centres with the highest proportions are all in London. A huge 19 of the top 20 areas for automatic passes are in the capital, with the Cheetham Hill area of Manchester being the only non-London area. Goodmayes in East London had the highest proportion, with 34.9% of passes coming in automatic cars. It was also the only centre in the country where the majority of female drivers passed their test non-manual.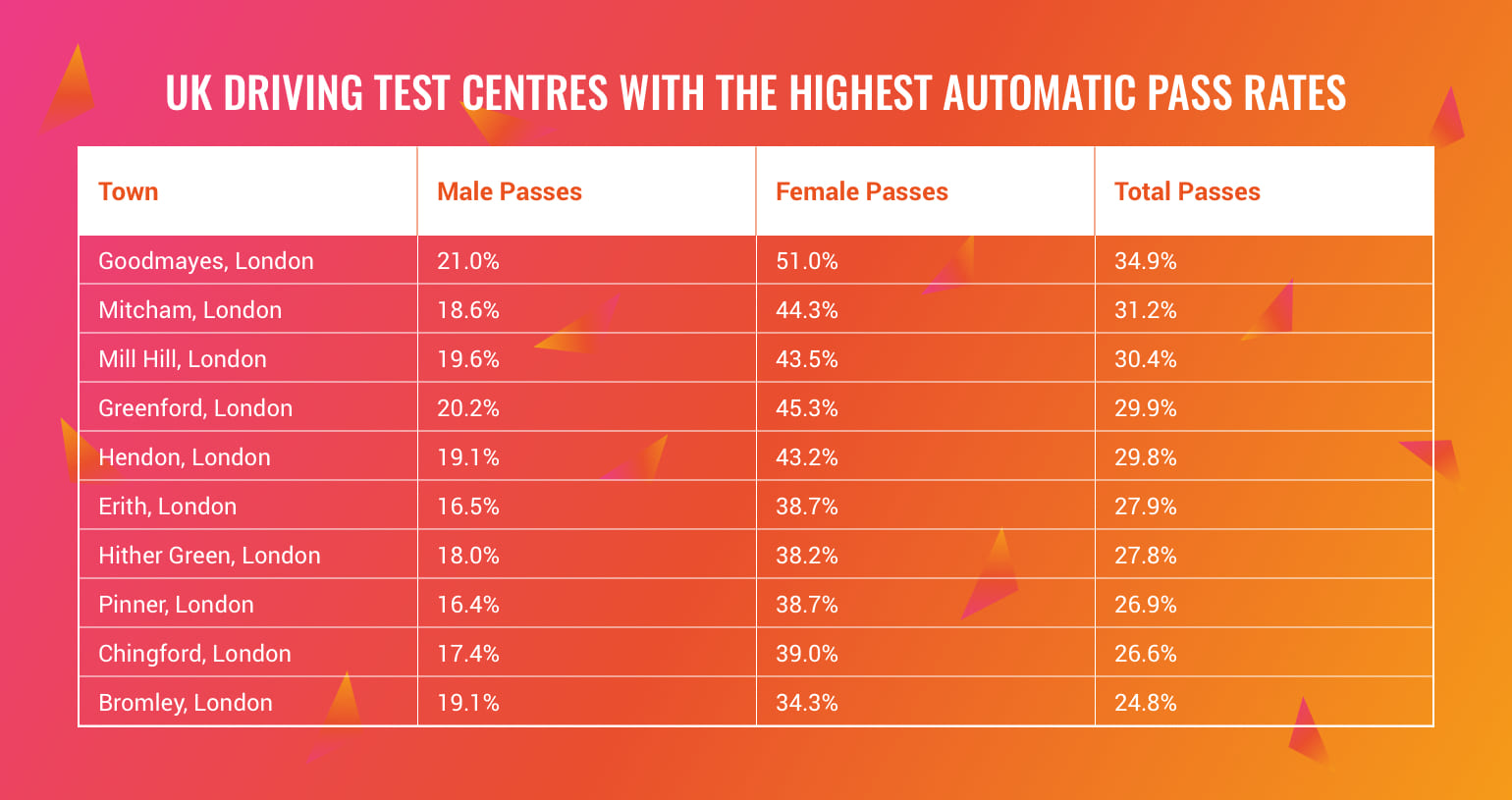 Mitcham, Hither Green and Erith in South London all featured in the top 10, as did Mill Hill, Greenford and Hendon in North London.  Away from the capital, there were 20 test centres in Britain that had no data available for non-manual test passes. However, Penzance's test centre in Cornwall had the fewest learners pass in automatic cars. Of their 738 passed tests in 2019/20, just 14 were not taken in an automatic.
When will automatics surpass manuals in UK driving tests?
In 2015, just over 45,000 of the 723,000 national driving test passes were in automatic cars, but by 2020, this had increased to almost 80,000 from 734,000 passes - a compound growth rate of 12% in five years. By contrast, 678,000 drivers passed their test with a manual, and by 2020 this had fallen to just over 654,000 passes - a negative compound growth rate of -0.7% over five years.
However, we can see a clear growth in the take-up of automatics compared with driving tests in manual cars. Based on this rate of growth and decline, we can predict that automatic cars could surpass manuals as the preferred choice for learner drivers by 2038. In London, the 50% threshold is reached much sooner, with automatics predicted to surpass manuals as soon as 2030. 
At the other end of the scale, learner drivers in Wales, Scotland, North East and South West England will have to wait until at least 2043 until the majority of their tests will be taken without a stick shift. This means that London is at least a decade ahead of the curve when it comes to automatic driving tests.
Where in the UK are Brits most eager to learn to drive an electric car?
As electric cars become more popular on British roads, they will further contribute to the trend of automatic cars surpassing manuals in both learner and consumer trends. But how much interest is there among learners to go 'green' for their driving lessons?
The Society of Motor Manufacturers and Traders (SMMT) estimate that pure-electric models now account for 6.7% of total new car registrations, with over 373,000 plug-in cars now on the roads in Britain. This growing interest is slowly being reflected in driving tests. In 2012, a 17-year-old from Hull became the first to pass their driving test in an electric car. 
However, electric cars are yet to become commonplace for driving lessons, with only a handful of driving schools offering lessons in one. However, we wanted to gauge the nation's interest in learning to drive electric. 
In order to do this, we took a deep dive of Google's Keyword Planner tool to see where in the UK Brits are most keen to take EV driving lessons, comparing search volume from the start and end of 2020 to see how it has changed. 
Despite the Covid-19 pandemic and the on-again, off-again nature of lockdowns in 2020, interest in learning to drive with a green vehicle increased compared to the end of 2019. Overall, search interest for driving lessons in electric cars went up by 20% nationwide last year, with a similar level of increase seen across England. In Northern Ireland, search volume rose by 9%, whereas in Wales saw no change and Scotland saw a 22% decrease.
After crunching the numbers for the UK's major towns and cities, we can see that Watford saw the biggest spike in enthusiasm for EV driving lessons - with a rise of 85% during 2020. Sunderland, which is home to Nissan's production plant for electric cars in the UK, came second with a 75% increase. There were also significant spikes in Swindon (60%), Guildford (55%) and Stoke-on-Trent (48%).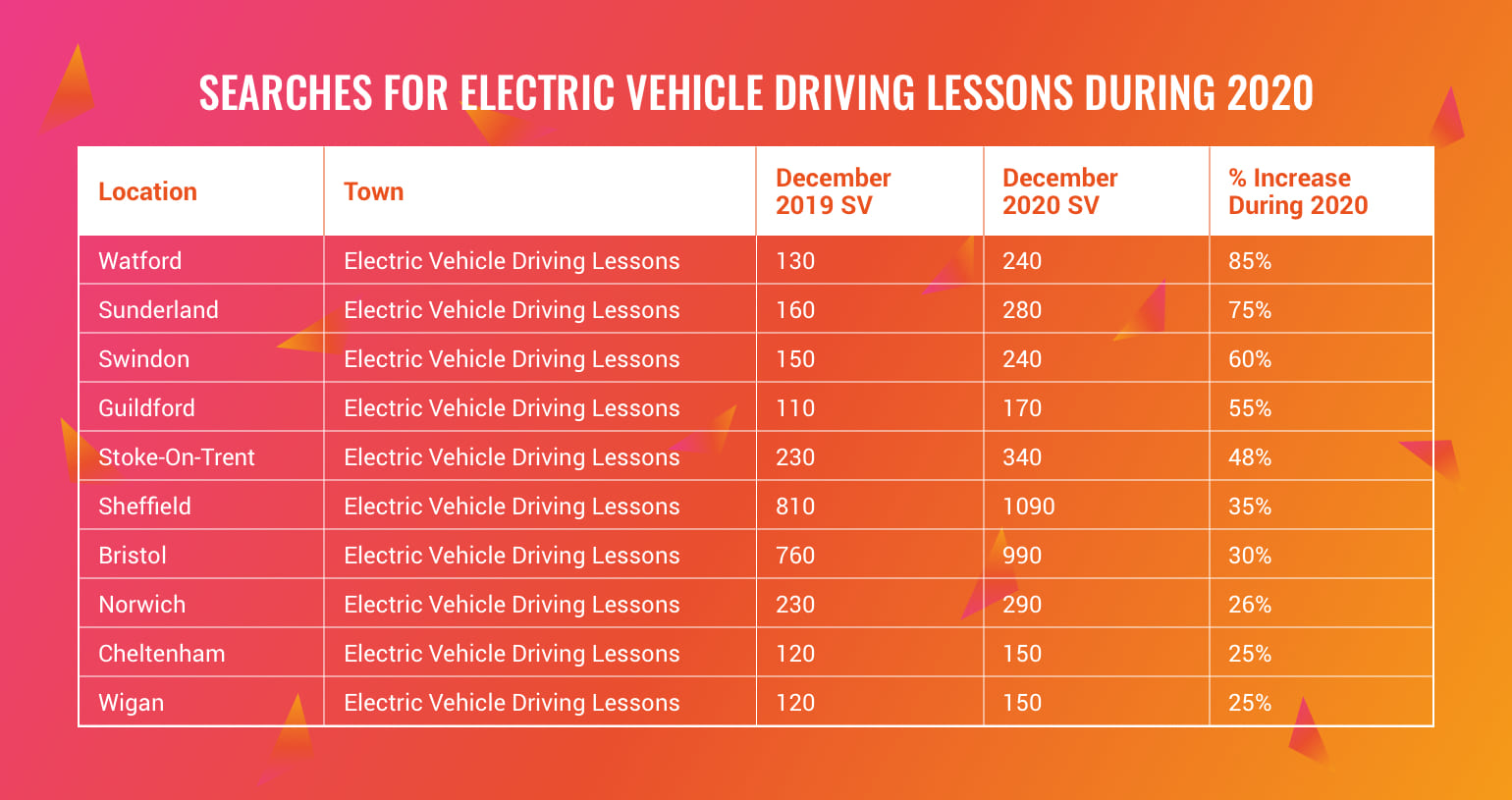 Conclusion - When will automatics surpass manuals?
With automatic cars becoming increasingly popular and more accessible in the consumer market, it is natural that learner drivers will soon start to follow suit and abandon the stick shift for their tests. While manual cars are cheaper to insure and taking the test qualifies you to drive both, many learners - especially in London are making the switch in driving tests with greater numbers. In fact automatic tests are likely to outnumber manuals by the end of the decade!
This isn't the case for the whole country, as Wales, Scotland and Northern England lag behind. However, we can see a growing enthusiasm across the country for electric cars with the potential to change the future of driving tests, with a 20% rise in search volume across the UK. See our Guide to Electric Cars for more information.