This summer, standard petrol which is 95 Octane Petrol Grade will become what is known as E10. E10 helps cut carbon emissions and contains up to 10% Bioethanol, so it's much better for the environment than the old standard petrol. 
So you'll likely be wondering, is E10 petrol ok for my car? Well, the good news is - it probably is and it's unlikely you'll need to do anything - 95% of petrol-powered cars on the road today can use E10, so it's likely that as a driver you won't need to make any changes, just use the E10 Petrol next time you fill up! Of course, there are some cars that can't accept E10 fuel, which we'll talk about below! 
Can my car use E10 petrol?
You'll be pleased to know that all cars built since 2011 are compatible with E10 Petrol! If your car was built before 2011, you will need to check if you're able to use E10 fuel or not. Thankfully, there is a petrol e10 compatibility checker over on gov.uk where you can check to see if your car, van, motorcycle or moped can use E10 petrol. To find out you will need to know: 
Vehicle manufacturer 

Vehicle model 

Engine size 

Year of manufacture 
If you're going through the process and can't find your car manufacturer on the list available you can… 
Check the owner's manual and instructional booklet in your vehicle for details

Look inside the fuel filler flap (it should state there whether your car can take E10 

Get in touch with the manufacturer directly to ask  
What if my car is not compatible with E10?
If you find out your car is not compatible with E10, don't worry, E5 'super' grade will still be available at most petrol stations, and you will be able to use this as normal to fuel your car. E10 and E5 labels will be made clearly visible on both the petrol dispenser and nozzle, making it super easy to figure out which one to use. They look like this…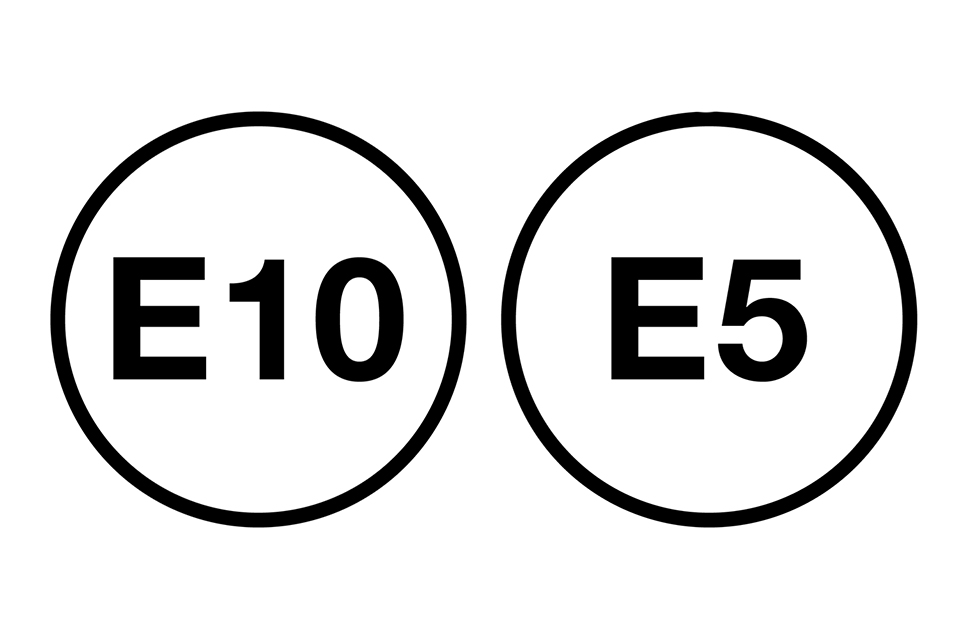 Are Diesel cars affected by the E10 change? 
The change in fuel only applies to Petrol cars, Diesel cars will not be changing and if you have a Diesel car, you'll still fill up as you would usually (using the black pump).  
Why are we changing to E10 petrol in the UK? 
The reason that petrol is changing from E5 to E10 is to help tackle climate change and reduce the CO2 emissions that are associated with petrol vehicles. Petrol in the UK currently contains 5% renewable ethanol (hence E5) which will double to 10% (hence E10) 
E10 is already used throughout the world, including across Europe, in the US and Australia It's great to see the UK is getting on board with it too. By combining petrol with 10% renewable ethanol, less fossil fuel is needed and in turn, we are reducing carbon emissions and meeting climate change targets! 
E10 petrol price 
So, will E10 save you money? Well, this is where it can be a little confusing. If you were to burn a litre of unleaded, you would be releasing more energy than if you were to burn a litre of ethanol. So this means that E10 fuel will yield slightly fewer miles per gallon than pure unleaded petrol would. With that being said, E10 is estimated to reduce pump price petrol costs by 0.2 pence per litre, so whilst your Miles Per Gallon might be down, your cost per mile won't be. 
E10 petrol in classic cars 
Classic car owners may be concerned about the introduction of E10. Whilst classic cars can run on the current E5 which is on sale, the new E10 fuel could cause some potential issues. The Department for Transport has said the potential issues could include: 
Blocked fuel filters 

Damaged fuel pumps 

Degradation to flexible fuel hoses 

Corroded carburettors 
So what can classic car owners do? Well, as we mentioned earlier, many petrol stations will continue to sell E5, just the super grade version. The government has pledged that there will be continued suppliers of E5 petrol in the form of super grade unleaded, so classic car owners can continue to use that. If you're a classic car owner and you're worried about using a different type of fuel in your car, get in touch with the manufacturer. 
What do I do if I put E10 in a non-compatible vehicle?
If you use E10 by mistake on a car that isn't compatible, don't panic. Using a single tank of E10 in a non-compatible car shouldn't be a problem (unlike putting petrol into a diesel engine for example), just make sure you use E5 next time you fill up! 
When will E10 be introduced? 
E10 is quickly becoming the standard petrol grade in Great Britain (England, Wales and Scotland) - we'll be surprised if you haven't seen it already. If you're in Northern Ireland, subject to approval, you'll start to see the E10 option at your local petrol station in early 2022.