You're finally feeling confident behind the wheel and your driving instructor is making positive noises about booking your driving test. Great news! If you're a young driver in the UK, you're probably wondering "How do I book my driving test?". Well, fear not, we've got the ultimate guide.
At the moment the driving test differs throughout the UK – so we've highlighted what you can expect when booking a practical car driving test. We'll keep this blog updated as and when things change until they're back to normal.

In this blog we've also highlighted what you can expect when booking a driving test using the new queuing system put in place when you're able to get on and book.
Are driving tests cancelled during lockdown?
Theory and Practical driving tests are continuing throughout England, Scotland and Wales for those in Tiers 0-3. If you are in Tier 4 - tests and driving lessons have been suspended.
In Northern Ireland, tests are being cancelled from 28th December - 6th February. 
For further information and advice for learners drivers during lockdown , please see our dedicated blog.
Can I book a driving test?
Drivers in most of the UK can still book a driving test on-line, albeit you will not be able to select a date during a the lockdown period in your area.
Who can book a driving test?
Although there is huge demand for driving tests after the lockdown in the spring, fortunately, any learner driver (who is test ready) can book a driving test online in most parts of the UK.
Whether you've got your test booked, or you're waiting to get one booked, getting insured on a family car for extra practice in the meantime could help you get prepped to pass first time when the date finally comes!
How do I book a driving test?
Booking a driving test is super simple and is all done online.
Before you start you'll need:
UK driving licence number
Credit or debit card (the cost of the test is £62 on a weekday or £75 on a weekend), and your theory test reference number.
Your instructor's personal reference number if you want to check they're available, unless you're choosing to take the test in your own car.
Remember – you'll be required to wear a face covering for your test unless you have a valid reason not to, which must be stated when you apply for your test. Wearing glasses does not count as a valid reason.
The new driving test booking system
seems to work
Due to overwhelming demand to book driving tests, there is a new booking system in place on the DVSA website. Here is what you can expect when booking your test:
Head to the GOV website to book your driving test
When you choose 'start now' on the booking page, you will be put into a queue
You must remain in the queue (not close your browser) or you will lose your place
When you're told it's your turn - you will have 10 minutes to start your booking
You will be shown driving test appointments within the next 6 weeks only, there is no waiting list or cancellation list - you can only book what you see online
If your local test centre is fully booked, you will be shown availability at your other nearest centre
All available appointments are shown online - the DVSA customer service centre does not have access to any other appointments
It is vital that you only book your test when you and your instructor feel you're ready to take it. Tests could be at short notice so it's important you feel confident in your driving ability to pass. The DVSA is only making appointments for tests within 6 weeks so they can react to any changes in government guidance about Coronavirus. New appointments will be available each week, on a rolling 6-week period.
What does the queue look like?
Here is what you can expect to see when you start your driving test booking – you will see how many people are ahead of you in the queue as well as information on what to do if you are timed out.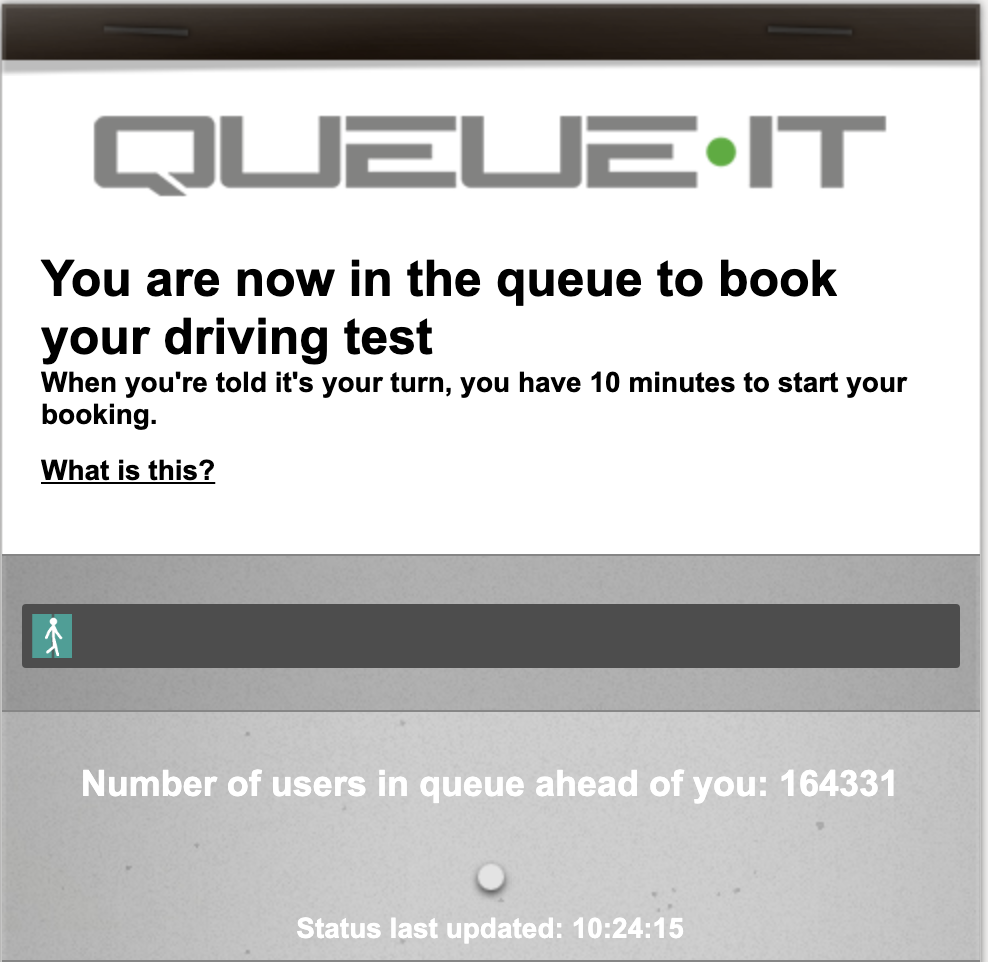 If you're ready to book your test – head over to the gov website!
Do I have to re-take my theory test if it expired during lockdown?
Unfortunately, if you're a resident in England, Wales or Scotland, and your Theory Test Certificate expired during lockdown you will be required to pass the Theory Test again before you book a new driving test. However, for Northern Ireland residents, theory test certificates which were due to expire between March 1 and October 31 this year will be extended by eight months.
We'd love to see an extension to the Theory Test certificate for all UK provisional licence holders whose Theory Test Certificates expired during lockdown, so we're petitioning for this change. Read more about how you can get involved and how much lockdown has cost learner drivers.
Can I book a Theory test?
The good news is that you can book your theory test if you're a learner driver, and it can be done fairly painlessly online.
Theory tests are currently going ahead, depending on your local restrictions. If you have a theory test booked, you will be contacted should it not be going ahead.
How do I book my theory test?
Head over to the GOV. website to book your Theory Test online. To save yourself time, make sure you have the following to hand before you apply:
UK driving licence number
Email address – you have to book by phone if you do not have one
Credit or debit card
The cost of the Car Theory test is £23.
If you're looking to get your practical or theory test booked in soon, we've written a guide to what to expect in the practical driving test or the theory driving test with the new COVID-19 rules to help you be prepared!