If you're an avid reader of our blog, you will know that I often get out and about in brand new cars and give you my honest opinion, from one young driver to another. If you're new here – hiya! – To give you a quick update about me, I'm 23 and I've been driving for just over a year. Part of my role here at Marmalade is taking new cars out on the road and telling you what I really think. It may help you decide which car to get as a new driver, or you may just be here to laugh at my experiences (my first time driving an automatic was quite something) – but whatever it is, I hope you find it helpful!
In this blog, I'll be comparing two of the classics – a Ford Fiesta and a Ford Focus. I'll be telling you what I liked and disliked about each, before choosing my winner! Firstly – let's start with the Fiesta, shall we?
The Ford Fiesta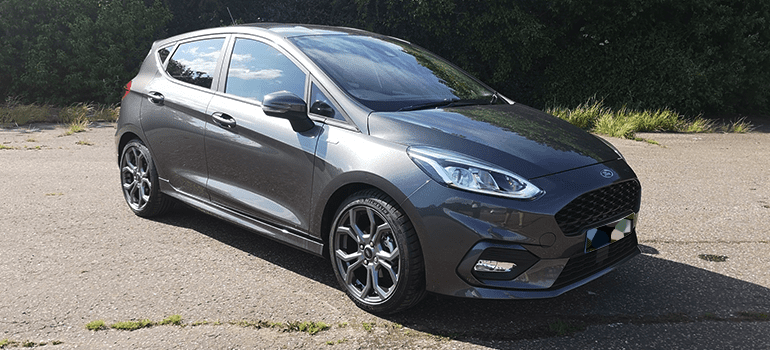 The look & feel
Growing up, I always believed that Ford made great cars! I think my Dad must have said time and time again how reliable they are, so I always had this idea that Ford makes good, solid cars to go for. Until now, however, I'd never actually driven one – and this 2019 Ford Fiesta ST-Line was a good place to start. Now I absolutely love the look of this car – and you can see why straight away. Whenever I see one passing me on the street, I can't help but take notice – those day time running lights are amazing and always catch my eye! I also LOVE the array of colours it comes in. I test drove the one above in a fancy grey, but I've also seen them in a fab yellow shade and an amazing rose-y type colour!
I think it was the little details I liked about this car the most. The red stitching on the steering wheel, the clever design meaning it didn't need a fuel cap (saving clumsy people like me from the stress of losing one), the compact and yet roomy interior – I loved it all! And did I mention the tech? It's got everything you could really want – including a handy USB port to charge your phone on long journeys. The only downside for me was the infotainment screen. Don't get me wrong, it did everything you needed it to, but the way it was positioned in the car was a little irritating – almost as if it was an afterthought when building the car. I would love for it to have been incorporated into the middle section with the heating controls etc. But all in all, it's a really minor thing and didn't distract me in any way from all the other amazing features.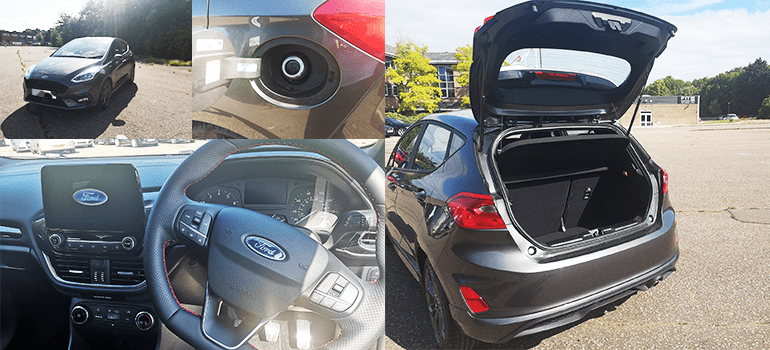 The drive
Setting off in this car was a dream! The drive was so smooth and the engine was so quiet that I felt like I was driving on a cloud (does that even make sense!?). The car handled amazingly too, around corners and on roundabouts, I felt in complete control.
It normally takes me a little while to get used to a car – perhaps a mile or two before I start to get to grips with it, but that was not the case in the Fiesta… at all. As soon as I hopped behind the wheel I felt comfortable and confident, which doesn't often happen for me!
It wasn't just the smoothness of the car, or the fact I felt utterly comfortable in it that sold me either – it was pretty powerful, too! Even the 1-litre engine gave me more than enough oomph, getting up my speed in no time at all meaning overtaking when needed was a breeze, because there is nothing worse than going to overtake a slow tractor, but not trusting your cars power enough to do so.
Overall I rate this car so highly, and would 100% recommend it to young drivers. The big question is though – is it better than the Focus?
The Ford Focus
Now since the Fiesta was my first drive of a Ford car, it's only fair to have something to compare it too – right? Say hello to the Ford Focus 😍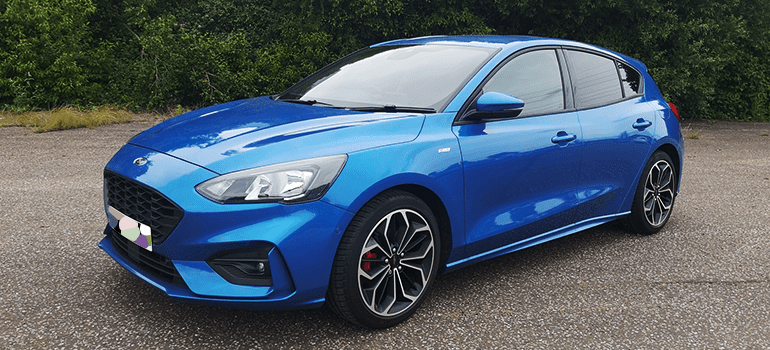 The look & feel
Seeing the 2019 Ford Focus parked outside Marmalade HQ just waiting for me to take for a spin was probably the most excited I've been to drive any car so far. It. Looks. AMAZING! I fell in love with this car straight away. It wasn't just me either – after taking this car for a spin and pulling up on the side of the road, a man actually stopped me to tell me he loved my car! I felt kind of proud that someone would stop and compliment my choice of car. Of course, I didn't tell him the car wasn't actually mine – I played it off like I've got great taste and said thank you ;)
The interior was very similar to the Fiesta – the amazing stitched steering wheel I liked so much made another appearance. I think the only real difference was that the Focus felt a bit more… sophisticated? It's hard to explain. The Focus features a carbon fibre style strip on the dashboard which adds a sporty element. The touchscreen works better in this car, in terms of how it's positioned – it looks as though it's coming out of the dashboard as opposed to just being stuck on it. However, these are really minor details. If I wasn't paying too much attention, I wouldn't really know the difference from the Fiesta, which is fine – but as the Focus starting price is around £3,000 more than the Fiesta (granted, the Focus is bigger than the Fiesta), I'd like something a little more on the inside, as this is what you spend most of your time seeing.
The outside of this car is where the beauty really lays. The sleek and dynamic edges, tinted windows, spoiler on the back, amazing alloys – seriously, what's not to love? I felt super sophisticated driving the Focus and I just knew I was turning heads wherever I went. And how could I forgot to mention the amazing blue?! Obviously, the Focus comes in other colours, but I think this would be a front runner for me if I was going to get a Focus of my own. It's not too bold that it looks ridiculous, but it sure does stand out (in a good way!)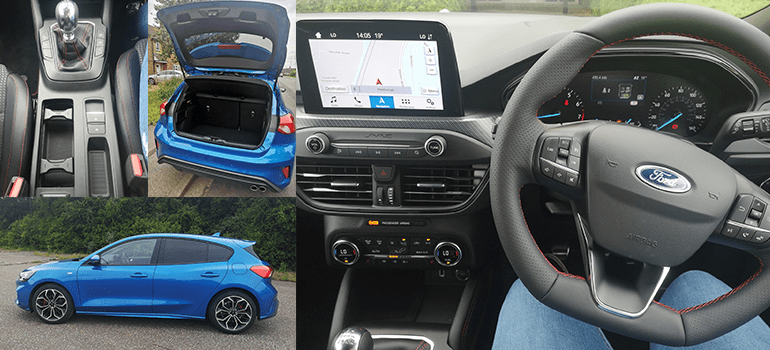 The drive
Now you may be wondering up to this point, why has Ford made two different cars that look different on the outside, but are the same otherwise? Well, they're not. The drive in the Ford Focus was another level – for me at least - I've not felt power like it! I wanted to take it to a race track and really put my foot down, which I've never urged to do before. But before thinking it's dangerous, it didn't feel it at all. I got up to the speed limit SO quickly, but felt in complete control and felt safe in the car. And I've said it time and time again, no matter how fast a car is, no matter how Instagram worthy it looks – if I don't feel safe, I don't want it. Luckily, that was not the case here! It was incredible.
The only issue I had in this car was the parking. Not the cars fault – I'm just terrible at it. I'm used to driving a small 3 door car, which this is far from. Whilst the Fiesta was a 5 door, it felt smaller so parking wasn't much of an issue. This was a 5 door, and it felt like a 5 door. I struggled to manoeuvre so much car! I don't doubt, however, that after a few attempts I'd get the hang of it. Not all was lost, however, the Focus had a handy feature of parking assist, which, although I didn't get a chance to properly figure out how to use (I gave it a go but I don't think I did it right, because nothing really happened – oops), I know would come in super helpful – once you've mastered it, of course.
Overall, I can't really fault this car. It's hard to say if I would recommend it to young drivers, though. I think it would all depend on how confident you felt behind the wheel.
The winner?
For me – when it comes to what car I would look to get as a new driver, it would have to be the Ford Fiesta. I think it terms of the drive, whilst I probably enjoyed driving the Focus more (and still dream of taking it around a track like The Stig), the Fiesta was just a bit more practical. It had space inside but didn't feel like I was driving anything too big. It has the look, feel and power to get me around but I didn't feel out of my depth with it. I felt so comfortable in it straight away, which I knew was what really sold me. I think in a few years' time, once I'm more confident on the road and perhaps need the extra room in a car, I'd opt for the Focus because it really is amazing – but right now, the Fiesta is what I'd go with.
I think my one piece of advice for any young driver looking at these two cars is to take them for a test drive. I can't stress it enough! Don't just listen to me and opt for a Fiesta because I said so – you may take the Focus for a drive and not have any issues parking (because I guarantee your ability to Parallel Park is better than mine). Test driving any cars you look at will help you decide which the right one for you is.