All learner drivers are different – and whilst some pass their driving test on the first go, 54%* of others don't. Since the majority of learners take more than one attempt at the test – we thought it was about time to give some helpful tips and advice to you learners out there who didn't quite get that pass on your first go.
You're not alone
If you fail your first test, it's really easy to let it knock your confidence going forward. But you should remember, you're not alone in this. In fact, 47.6% of learner drivers pass on their second attempt, so you've got nothing to worry about. Keep your head up, keep focused and give it another go.
The DVSA has published driving test statistics from 2017/18 and we can see which test attempt has the lowest and highest pass rates – look at that, most people pass the 2nd time!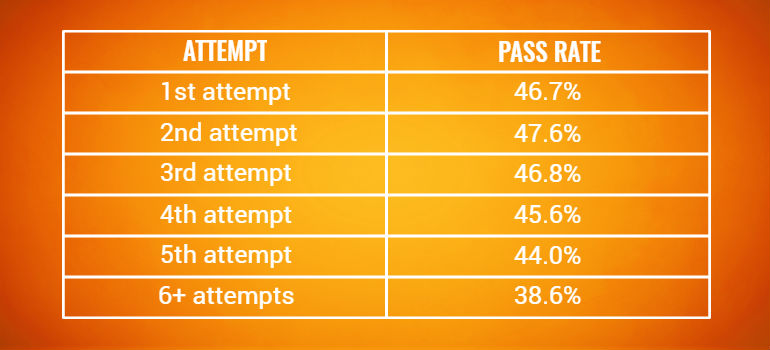 Listen & learn
If you didn't manage to get through your first test, your examiner will share with you the things that caused you to fail. This is where you need to take note – you need to know what to work on for next time! Remember to share this with your instructor, too. They'll be able to help where is needed.
Keep your chin up and keep going
After failing a test, it's easy to want to put driving on the back burner. Our advice? Don't. Get your next test booked in straight away for as soon as you can (which may be a month or so, depending on how quickly your local test centre gets booked up). It will give you the boost to continue to perfect your driving skills. And don't worry – you will get there!
Chill out!
When taking your driving test for the second time, there's less reason to worry. You now know the format of the test, how it feels, the nerves you can expect – everything! Your nerves may have caused you to fail the first time, but now you know what's going to happen, take the nervous energy and put it into your driving.
Practice makes perfect
It's cliché, but practising driving as much as you can, will really help when it comes to taking your test. As you simply don't know what manoeuvres will be thrown at you during your test, you've got to make sure they'll all up to par. If you've had Learner Driver Insurance with us, you can renew for as little as 7 days in which you can practice over and over the things that let you down the first time.