Hi everyone! I'm Ella and this is the first blog I've written for Marmalade. I'm really excited to be part of their work with young drivers and I hope what I've learnt from my own experiences will help other people like me.
I always thought it would be impossible for me to learn to drive due to the huge costs involved. However due to me having been a motorcyclist for a year, by the time I turned 17 at the start of April, I found the cost of insurance to actually be quite affordable and decided I would learn to drive a car after all (not that the freezing cold weather in February and March influenced that choice or anything!). I bought my first car with all my savings, a smart little Kia Picanto 2010 that cost me £1500 (but was probably worth closer to £3000). I affectionately nicknamed my car Noddy and counted down the days, hours, minutes and seconds until I could take him for a spin!
I insured Noddy on a provisional driver policy and went out every day with my mum to practise what I learned in my lessons. One particular day – rainy, grey and downright miserable (the weather, not me!) – I decided to go down near my test centre to practice driving around the local roundabouts. I had just learnt this in my driving lessons, so I thought it would be a good idea to brush up on them whilst it was fresh in my mind. It was a great drive and even my mum was praising how well I was driving only 8 days since first getting behind the wheel. Then out of nowhere, my 'great drive' went very, very sharply downhill.
A turn for the worse
Another car was moving very quickly around the roundabout on the inside lane to my right as I was going straight ahead (second exit) in the outside lane. This driver decided they wanted the first exit and, being in the wrong lane, swerved directly into the front offside of my car to take it. In doing so, they spun my car into the exit onto a dual carriageway. I managed to regain control of the car (I don't honestly remember how!) and stopped safely against the central reservation, where two very kind gentlemen helped me push my car across the busy carriageway to a nearby refuge area. The initial impact had been a huge shock and instantly I was fretting about whether anyone was hurt – as a first aider I'm always planning my next move, even in the mess, I found myself in!
By law when you have an accident, you should exchange details with anyone else involved including names, contact information and insurer details. Luckily the other driver was more than willing to oblige and their car, although having a huge dent and the passenger door airbag inflated, was in a driveable enough condition to get them home. He seemed disgruntled and tried to accuse me of driving into him – but I did not admit any liability and nor did he. We were both surprisingly calm and collected if a little standoffish. Regardless, it was a huge relief that nobody was injured and for that, I am really thankful.
Goodbye Noddy
Unfortunately, poor Noddy was in a bit of a state and was not safe to drive. We waited for many hours in the car, freezing cold and the rain hammering down outside. Worse than that was the fact that all this waiting around gave me lots of time to worry. Would my car be fixable, would this crash be deemed my fault, how I would practise for my test... There were so many worries going around my head, and so many hours to sit in the car and think about them. After maybe three hours sat at the side of the road, a recovery truck came to tow my car away and my dad came to pick me and my mum up.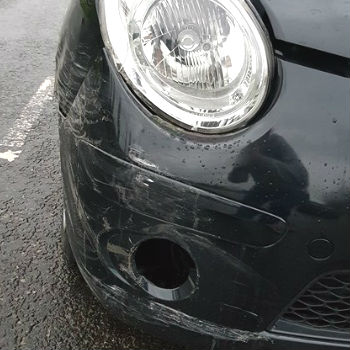 Naturally, the accident left me in shock and very nervous to get back into driving again. I had my fifth driving lesson booked for the next afternoon which I was unbelievably anxious about and I texted my instructor in tears worrying he wouldn't be insured to teach me if I'd had an accident or claim. He assured me not to worry, that it would all turn out fine and that he definitely didn't want to delay our lessons as I was making good progress, The lesson started off shaky: I forgot to put the car in gear, scuffed the kerb and stalled. Eventually, I found my feet again; within half an hour I was flying down 70mph dual carriageways and twisty country roads – which really took my mind off of everything and helped me get my mojo back! By the end of the lesson, I felt much more positive and even my instructor said he couldn't tell I was so shaken up by the crash. It definitely helped to be thrown back into driving so soon, as it didn't let me wait around with all my driving fears festering in my head. I am also thankful to my instructor who was really patient with me while I found my confidence again – it really pays to have an instructor who brings out the best in your driving.
I'd say these are my top tips for learners who have an accident:
Keep yourself as calm as possible when talking to the other driver(s). If it is safe you can take a moment to compose yourself after you stop. NEVER admit fault or apologise at the accident, even if it was your fault. Just take care of any injuries, exchange details and call police if needed.
Get yourself back into it: let your instructor know what's happened and try to have a lesson as soon as possible (unless you're injured) and try not to cancel lessons due to your nerves.
Have a clear story ready with as much information as possible when you speak to your insurer – I wrote a statement on the night it happened so all the details were fresh in my mind. But make sure everything you say is true – finding a witness can also be really helpful.
Try not to get angry or upset. Your instructor, friends and family are all there to support you and you will still be able to pass and get that coveted pink card, just keep positive and believe in yourself - you're a great driver, you can do it!
A month or so on from the accident, I am progressing well with my driving even though I haven't been able to practise outside of lessons; unfortunately, my insurer decided to write Noddy off last week but still hasn't concluded who was at fault.
Nevertheless, I have just bought a new car and have my test booked for the 19th June - and I'm feeling really positive! I'll be sure to let you all know how it goes. Thank you for reading my first blog and I can't wait to write another one soon. Good luck all with your driving!
Ta ta for now!