As many of you know, we're petitioning for change on how learner drivers are treated when they're on the roads. Astonishingly, 90% of learner drivers have been subject to tailgating and overtaking when in their lessons, with 22% of students being left in tears due to the abuse, and 8% of learners giving up learning altogether, because the road rage they have to deal with is too much. We want to share real stories with you to show you the extent of the issue. By sharing real-life experiences, from learner drivers and instructors, we hope that we can put an end to the way learner drivers are treated on the roads. 
What's happening out on the roads?
What are instructors saying?
Richard said: I've experienced road rage aimed at students, general abuse, threats of violence and racist slurs. I've even had a guy shout at my pregnant student because we were parallel parking next to his car. He set his alarm off using his key fob and when that didn't discourage us, he came out to the car and shouted at us. We calmly ignored him and drove off and he got in the car and followed us for 15 minutes and I had to phone the police. While I don't know if a student had stopped specifically for this reason many do stop and could be embarrassed to admit why. Samme said: I've had so much abuse. In one lesson I had someone tailgating, snaking and flashing lights to get past. We were in a 40-limit doing 40. We pulled over and they pulled over, revving the engine, so we set off again and they followed doing the same. I had to pull into a police station car park to get away from them. Many times, people blow their horn when a learner stalls or sits very close behind and worries the learner. So I would say the following distance is something which definitely needs to be followed up and the offenders actually prosecuted for it as currently they just get away with it. Andy said: I have lost 2 learner drivers over the past 12 months. 1 was the result of a van tailgating badly, then dangerously overtook, slammed on the brakes and started to hurl abuse in another language. She just said "no more. Take me home".
What are learner drivers saying?
Kimberley said: Once, during one of my lessons with my driving instructor, I was heading toward my exit on a busy town roundabout, which then proceeded to be blocked up by a slow traffic jam. Instinctively, I braked in order to stop and join the trailing line of cars, however, the driver behind me seemed to interpret this as a stuck-behind-a-slow-learner situation and drove straight into the back of the car! My extremely irritated instructor attempted unsuccessfully to wave the offender into a nearby car park, yet the driver simply hurried off. After a quick breather in the ASDA car park, my instructor reassured me that the entire shenanigan was caught on camera so that if there was any damage, the offending driver could easily be found. Sintija said: When I was a learner driver, I had so many drivers who saw me as a target - tailgating, dangerous overtaking, pulling out of junctions and suddenly changing lanes. It made me more anxious than I already was. Kira said: When I was a learner on my third or fourth lesson, I was in a 60mph section of a road doing just above 50. I was still pretty nervous, but not going 'slow' by any means. I could see someone in my rear-view mirror approaching me really quickly (way quicker than 60mph!). The driver then shot out to the side and overtook me. I thought it was just a reckless driver in a rush, but they then decided as they were in front of me to slam their brakes on, causing me to nearly hit the back of them! They then sped up again and drove away. I was so confused, and a bit angry! My driving instructor told me to pull over and then explained that they were 'brake testing' me. It was a really scary situation and made me worry for a long time after, even when I made it up to the speed limit. Kate said: When I was a learner driver, I was heading towards the big roundabout in my local town centre for the first time in a lesson. I was feeling quite confident until a fire engine was approaching from behind. Of course, I panicked – it was my first time on this roundabout! Unfortunately, an already stressful situation was made even worse by someone behind me, who started beeping his horn and shouting furiously for me to move into the oncoming traffic! It was horrible and had a huge impact on my confidence.
So how should learner drivers deal with the abuse they face?
Here are our top three tips! For more advice on dealing with road rage as a learner, check out our blog here.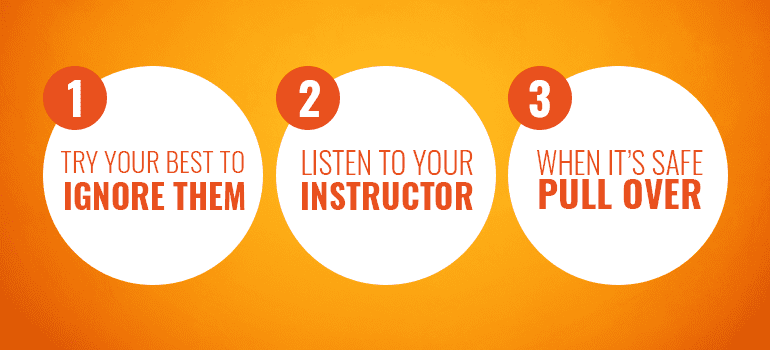 All of these stories are just a glimpse into what learner drivers are dealing with every day.