It's official! McDonald's drive-thrus will begin operating again from Thursday 4th June, after a two-month hiatus. 
If you've recently cast aside your provisional car insurance and are a fully-fledged qualified driver now could be your chance to experience the rite of passage of going to a McDonald's drive-thru.
But, our latest research shows that there might be some you want to avoid, as we have crunched the numbers to predict the McDonald's drive-thrus across the UK which are set to be the busiest.
We sourced new DVLA data detailing car registrations across the UK and took data from the McDonald's store checker to predict the busiest drive-thrus calculating the amount of cars with the potential to visit UK drive-thrus, both the McDonald's and the DVLA data are broken down by postal region. 

It's bad news if you live in Dorchester, as it's one and only drive-thru in the DT - Dorchester postal area is in Weymouth and is set to experience somewhat of a 'McFlurry', with 123,909 vehicles that could turn up to its one drive-thru.
Closely followed behind is Slough with 106,310 vehicles potentially flocking to its drive-thrus, with Hereford in third place. If the queues we've seen in previous weeks on social media are anything to go by for the likes of KFC - you may want to avoid the locations below!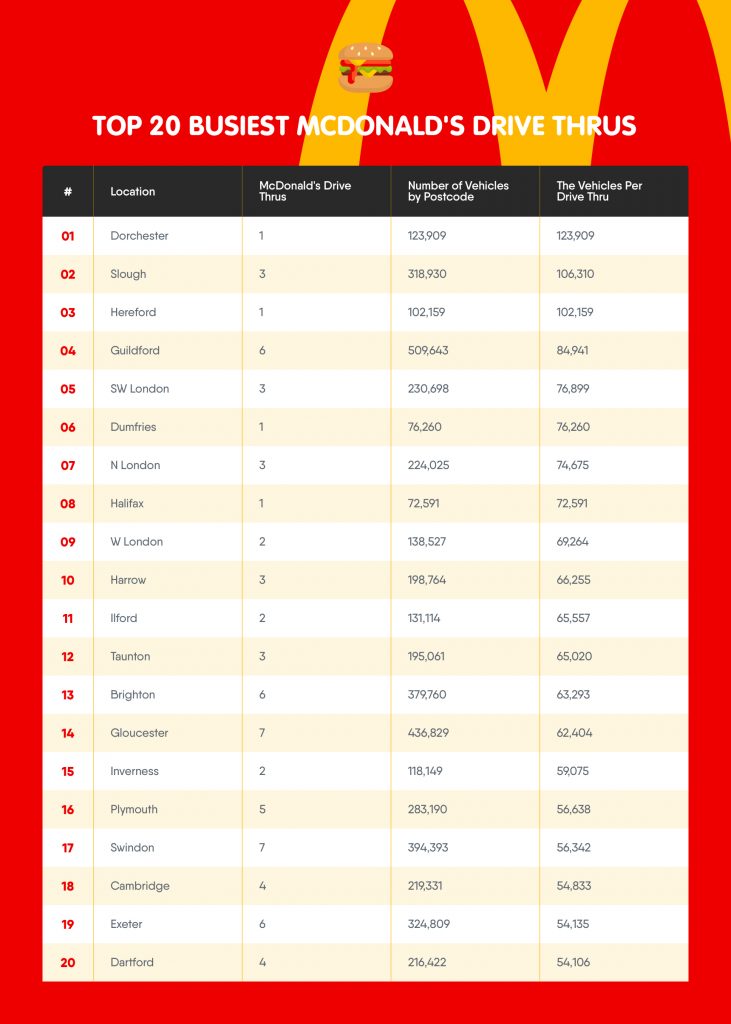 Commenting on the figures, CEO, Crispin Moger from Marmalade which conducted the research, said: 
"While we have all missed the wonders of the golden arches, there is a real risk in rushing out to a drive-thru when they reopen. If you are in one of the areas that our study has predicted as being busy then I would recommend holding off and avoiding the rush, particularly if you are a new or learner driver, as we've all seen the chaos from other fast-food chains opening across social media.
"It is likely that the chance of an accident is increased as people may behave more erratically and rush to get there first, not to mention patience wearing thin in a queue. But, if you do decide you can't resist - remember the rules of the road still apply – so avoid blocking roads and roundabouts while queuing, don't be tempted to use your phone while waiting and dispose of the rubbish responsibly."
But, it isn't all doom and gloom, you might be lucky enough to live in one of the more relaxed areas where the drive-thrus are set to much quieter! The top 20 'most quiet' locations can be found below:
To view the whole list and find out where your local drive-thru ranks, visit the full dataset here.
If you're yet to experience the wonders of ordering a double cheeseburger from a drive-thru and you're about to begin driving, why not take a look at our learner driver insurance packages, so you can get on the road asap!
Data sources:
McDonald's Store Checker - https://www.mcdonalds.com/gb/en-gb/restaurant-locator.html
DVLA - https://www.gov.uk/government/statistical-data-sets/all-vehicles-veh01