If you follow us on socials, or you visit our website during the month of June you'll see a colourful logo to celebrate Pride month, and our customers and colleagues in the LGBTQ+ community.
For us, it is not just a logo change, it's an opportunity to celebrate diversity and to show solidarity and support for those still fighting for equal rights. Naturally, we're not just supporting our colleagues and customers in June, we value diversity and pride ourselves on providing a safe space that allows our colleagues to be their authentic selves every day of the year!
Why do we still need Pride?
Pride Month is a month-long celebration of the LGBTQ+ community and a reminder of the Stonewall riots, that fundamentally shifted gay rights for people across the world.
Shockingly, there are still over 70 countries where it's illegal to be part of the LGBTQ+ community. Progress has been made and we celebrate those victories, but we're a long way off equality for all.
You only need to look at articles on social media to see how far we need to go for acceptance. Articles celebrating Ncuti Gatwa, a Rawandan-Scottish, queer actor, being cast as the new Dr Who (see right), alongside Yasmin Finney, a trans woman, received hordes of comments displaying racist and transphobic sentiments, showing the true disparity of the British public.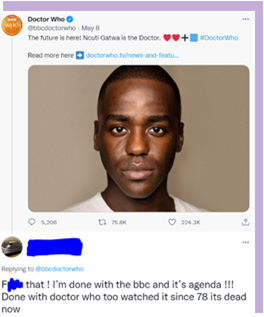 The more recent news of the Church of Scotland allowing same-sex marriages received widespread praise from a lot of LGBTQ+ allies. But, once again the comments section on social media paints a very different story.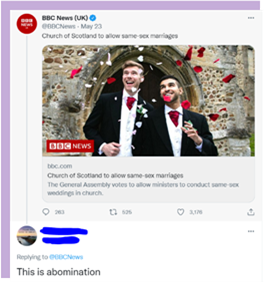 Times have changed since the first brick was thrown at Stonewall in 1969. We owe a lot to the trailblazers that came before, for the community wouldn't have the rights they have without their tireless work.
Pride is about celebrating the community, and all its elements, and shouting that we are here, we are queer, so get used to it.
How are we celebrating Pride month?
As part of the Atlanta Group, together with our partner brands link Swinton, Autonet and Carol Nash, to name just a few, here is a taste of how we'll all be supporting Pride this June:
In support of our LGBTQ+ communities, we're showcasing our pride and solidarity across our Atlanta businesses, changing our logo to represent the Progress Pride flag.
Swinton are proud to be sponsoring the British LGBT+ Awards for the 3rd year running.
Our colleagues will be sharing poignant parts of their lives and their experiences.
All colleagues will be invited to listen to inspirational guest speakers who will be hosting talks on Allyship and much more.
As part of the #AtlantaSummerOfPride there will be various celebrations held across the business and Atlanta will be sharing celebratory t-shirts, along with banners to show our support to the LGBTQ+ community.
If you would like to have your say, or have charities and fundraising events you'd like to tell us more about please send us an email.