Hi everyone, it's been a while since I wrote a post for Marmalade and whilst I've been away, I actually moved house! For most of my life, I've lived in a quiet, rural village and recently I have moved to York which is a fairly big city. It's safe to say that driving around a busy city is very different than what I'm used to. I'm used to quiet roads with barely any cars on, minimal traffic and not very much public transport. Therefore not constantly getting stuck behind buses! The driving life has changed so much for me and now that I've been here for a couple of months, I've picked up a tip or two on how to handle the busy traffic when you're used to the opposite! I can fully admit that I have made a mistake or two along the way, but that's how we learn right? If you're about to move or are a bit nervous when it comes to city driving, maybe these will help…
Keep Calm
I think most of us suffer from road rage, don't we?! Well, mine is pretty terrible, not going to lie. I think it's quite a typical British aspect of being a driver, but the constant stream of being stuck behind buses and cyclists was really hard to get used to. I still swear a bit if one swerves in front of me, but I think that's pretty natural. Right? It can take some getting used to, but if you just teach yourself to keep calm, drive slow and take things steady then you feel much more chill and the entire situation becomes a lot less stressful. Trust me!
Give Yourself Extra Time
If you're leaving to go anywhere, even something as simple as popping to the supermarket - give it more time. Traffic is hectic in a city, there's tons of traffic lights, public transport, cyclists… everything takes longer. This relates to the above point a bit as if you allow yourself more time for a journey, you won't be stressed out if you're stuck in a traffic jam and therefore going to be late for work etc! It's the same when you've got a list of jobs to get done if your weekly food shop is one of them, you're bound to get stressed if your schedule ends up going out the window because of the traffic. Start adding an extra 10 or more minutes to each trip and you'll never be late again! I hope...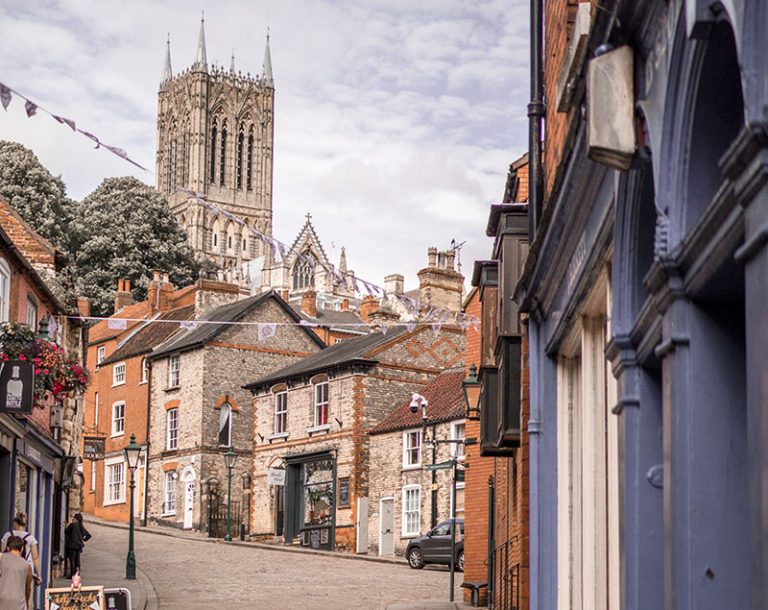 Slow It Down
So… I was driving down a fairly narrow street in the pitch dark one night and even though I was only doing 30, it was far too fast for how close I drove past a parked car. I ended up smashing my wing mirror against theirs and the back of it went flying off into the road. I was a bit shaken up by it as it was the first time I'd ever actually hit something and done some damage and I'd been driving a year and a half by this point! Not fun. I have learnt that even if you're in a 30 zone, and you're trying to get somewhere on time, you'll end up avoiding incidents like this if you just go much slower. Everyone hates a slow driver, especially in a busy place, but just ignore them and do your thing. Parked cars and narrow streets together are the duo of nightmares but even 30 can be too fast going down them.
Be The Nice Guy
I can't believe how mean drivers are here! It's a nightmare pulling out of any junction as the stream of traffic never ends. No matter what time of day it is. It's so rare for someone to just quickly let you out but I've decided that I'm going to be one of the fewer nice drivers and I let people out whenever I can. Heck, maybe it will make them think twice next time they're coming up to someone waiting to get out of somewhere. Don't join 'em, beat 'em.
Use Apple Maps
A little trick I learnt very recently is that Apple Maps is your best friend when it comes to a Sat Nav. I've totally binned off my actual sat nav now as I just plug my phone into my car and use Apple Maps instead. Most people prefer Google Maps but the secret here is that Google rarely updates their maps, whereas Apple updates theirs regularly. Therefore if you're driving somewhere new (especially a big city where there are constant road works!) It will make your life so much easier to use Apple Maps. It tells you when there are road works, and the fact that it's updated more regularly means that you won't end up down a dead-end or down a street that doesn't exist anymore. My new house is a new build and it doesn't even exist on Google, so it takes people to a field that's nowhere near where I live. Apple gets you to my front door. My house has been built for quite a while now so that's how little I know Google updates. Honestly, you'll thank me for this one.