Checking your oil and keeping your screen wash topped up are just some of the checks you should be carrying out on your car on a regular basis, but keeping an eye on your tyre pressure is just as important! Worn, under inflated AND over inflated tyres can seriously affect the steering, braking and handling of your car (especially in wet and slippery conditions!).
If you've never changed a tyre before, it's a pretty daunting task - and more disturbingly most young drivers don't even know how to change a tyre or what to do in the event of a blowout! So as part of our #minimechanics series, we're going to take you back to basics and go through some simple steps on how to check your tyre pressures and how to put some air in them!
Go to your nearest garage - Most places only charge 50p or so to use the air pressure machine! Or you can invest in a tyre pressure gauge and do it yourself at home.
Wait until your tyres are cold - It's better to do it first thing in the morning if you can as tyres become hot when you are out and about and this can easily affect the reading.
Find the valve cap and unscrew it - place the gauge over the valve (don't be alarmed if you hear a hissing sound as this is perfectly normal).
Check the pressure - Make a note of the PSI (pounds/pressure per square inch) which should be stamped on your tyre or in the inside of your door frame, then check your reading against it to see if it's under or over.
Put more air in - If your reading is under then you need to top it up either by visiting a local garage or by using your own compressor.
Check reading again - Now look at your air pressure again and see if it meets the recommended PSI.
Put your valve cap back on - Do the same for all tyres and check them all again with the gauge after you've filled them with air and presto! You're done! ?
Be sure to check the pressure in your spare tyre too, as there is nothing more frustrating than getting a puncture and then discovering your spare tyre is flat!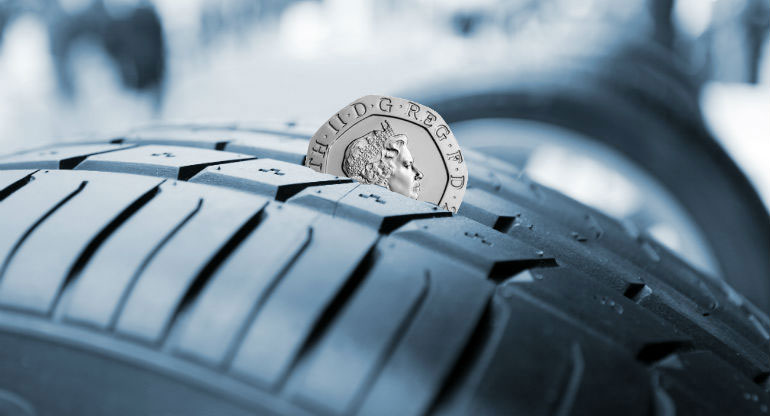 Our final piece of advice is to check for any damage or wear and tear on a regular basis - if you're cruising around and even 1 of your tyres is bald or doesn't meet the legal tread depth of 1.6mm, you could risk facing up to £2,500 penalty and 3 points on your licence... All new tyres come with a tread depth indicator to help you establish if your tyre needs replacing, but if you opt for an older or part-worn tyre it may not come with this feature - another quick way to check whether they meet the legal requirement is to place a 20p in the main tread grooves. If the outer band of the coin can't be seen - then your tyres are fine. If the outer band is clearly visible then they will probably be deemed not road worthy and you will need to think about replacing them! If you are ever unsure then visit your local tyre fitter.