Whilst you're learning to drive, it is important to let other road users know when you're behind the wheel, so that they can give you a bit more space and appreciate you may stop suddenly or be driving slower than most. L plates let you do just that and, most importantly, it's a legal requirement for provisional driving licence holders in the UK. 
In the UK, it is the law that as well as having the right insurance in place, drivers who hold a provisional licence must display L plates, that conform to legal specifications, during driving practice. Here's our  guide to help you stay legal and answer questions you may have about displaying L-plates.
What is the legal specification for L plates?
The DVSA have strict rules as to what qualifies as a L plate.
The plates should be 178mmx178mm and follow the specified layout.

The red 'L' must be placed on a white background

In Wales, learners can use D plates and/or L plates around their car whilst learning.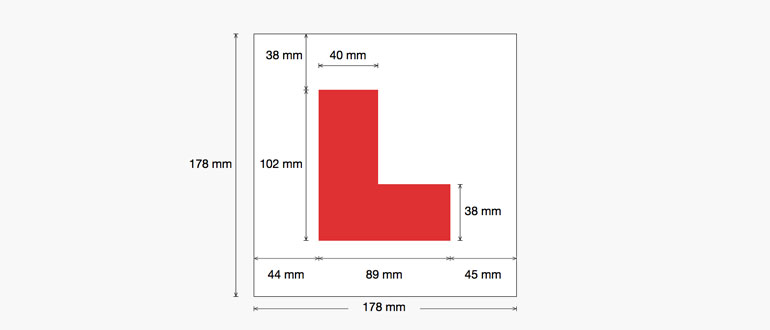 When purchasing your plates online, it's important to check these dimensions as the dimensions differ from the Republic of Ireland's L plates. The L plates should also be weather resistant, as other drivers will need to be able to easily identify you regardless of the conditions outside of the car. 
Who can use learner plates?
L plates are to be used by learner drivers when they are behind the wheel. Before you head out, just make sure you have the following before you get in the driver's seat!
A provisional licence -

Although you can apply for your provisional licence when you are aged 15 years and 9 months, you need to be 17 years old to start learning to drive!

A driving supervisor -

this can be either a qualified instructor or a friend/family member. Your supervisor must be over the age of 21, qualified to drive the type of vehicle you're learning in and have held a full UK driving licence for 3 or more years. However, it is important to remember to check with your insurance company as some may have an additional criteria. 

Valid learner insurance -

as you're not yet a full licence holder, you will need to have

learner insurance

before you set off!
What are the penalties for not driving with L plates?
Driving without L plates or failing to use plates which adhere to the legal specifications, could result in you receiving a fine as well as up to 6 penalty points on your licence. 
Plates can sometimes fall off, so it is best to keep a spare packet in the back of your car to avoid being caught on the wrong side of the law!
Can full licence holders drive with L plates?
The plates should be removed once the learner is no longer behind the wheel and the car is being driven by someone who holds a full licence. Remember, once you've passed your driving test, it's time to swap those L plates to green P plates! 
Are P plates a legal requirement after you have passed your driving test?
Although the highway code does not state newly passed drivers need to display green plates, you may want to use them to make other drivers aware of your ability.
Where to put L plates on a car?
Once your L plates have arrived, it's time to decide where to put them - learner drivers are required to have a minimum of 2 plates displayed on the car whilst behind the wheel. There is no specification of whether the plates should be placed on the left or right of the vehicle, however, plates should be visible at both the front and rear of the vehicle.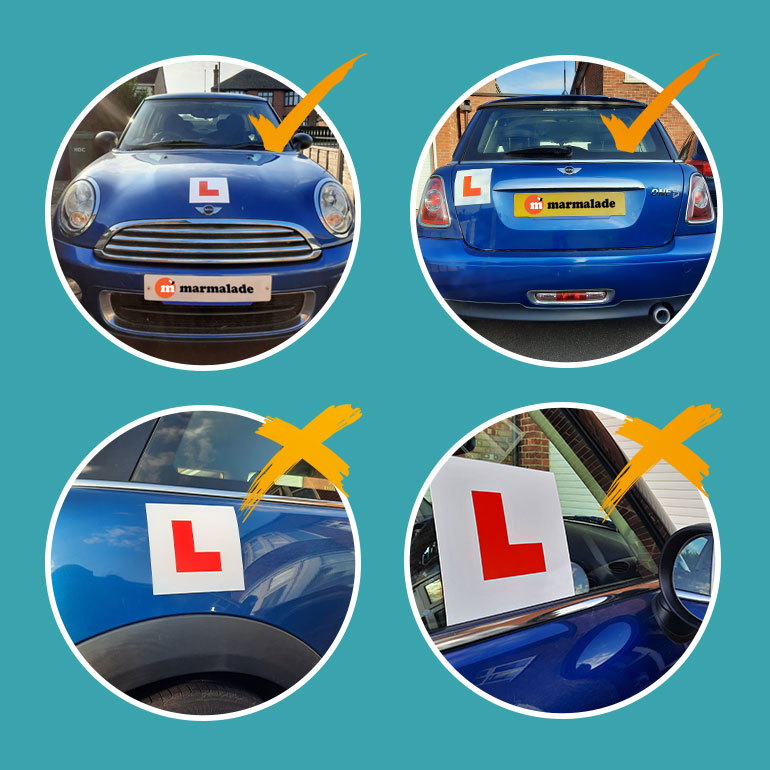 Where to buy L plates?
You can head to the high street or a motoring store to buy l-plates, or buy them from the DVSA website, but at Marmalade we like to make things easy. If you're looking for quality, strong magnetised plates that meet UK specifications, you can buy your l-plates from our Amazon store in just a few clicks. The great news is that it's eligible for Prime shipping - so you could be on the road the very next day!
How many L plates do you need on a car?
You must display at least 2 on your car, so you can be easily recognised by other drivers on the road. Luckily for you, Marmalade has you covered! Our L plates, which are available from our Amazon store, come in a twin pack.  
How to stick L plates on a car?
Once you have ordered your plates and identified where you would like to place them on the car, it's time to finally stick them on! But first, you will need to assess what type of L plate you have purchased.
This will really depend on your car and the types of L plate you buy. They majority of learners use magnetic plates which can simply be placed on the smooth metal surface of the car. However, there are a few options, which we explain next
What are the best L plates for a car?
There are few options, and the best learner plate will depend on the car you're driving and if you're sharing the car. We've listed the options here:
Magnetic

- First, make sure you check if your car is made from metal or the plates won't stick! These are the easiest type of plate to attach and remove, they are perfect for learners who practice in their parent's car. 

Self-cling

- If your car is made from plastic then self-cling plates may be an alternative option to magnetic plates. 

They do what they say on the tin, simply cling to a clean window – just be sure to place them in a position that doesn't affect your vision. 

Self-adhesive

-

these have a sticky backing and may be suitable for cars that are only being used by learners as these plates are often trickier to remove.

They are often very secure but

can leave marks behind.

Tie on

- If you have an older car, you may still be able to attach the plates to the car's bumper using string. However, most modern models have an integrated bumper so there's nowhere to tie them! .
Can I put L plates on my window?
Unless you have self-cling plates, it is best to avoid sticking anything to your windows as this could obstruct your vision.
We hope this answers all the questions you may have about L plates. If you're ready to get practising behind the wheel, why not head over to Amazon to order your Marmalade magnetic L plates for next day delivery with Prime?