Here at Marmalade we're proud supporters of Pride Month and we wanted to shout about it! We've been chatting with our Marketing Director, Adam, who is not only a fantastic role model for the LGBTQIA+ community but also an integral part of Marmalade as a business! 
Can you tell us what Pride means to you? 
Pride to me is a celebration of the wonderful diversity of life, being able to love who you choose and be happy in your own skin. At the same time it's about coming together in solidarity to show our support for those less fortunate and to fight for equal rights for everybody. It's important to me because I still can't walk hand in hand with my partner in places without the risk of verbal and physical abuse.
What's your favourite Pride memory? 
Having drinks back stage at the main stage of London Pride with so many iconic celebrities and also celebrating Pride in in Provincetown, USA with 40 friends dressed as a golden god will always be my two favourite Pride memories…so far!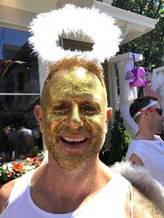 For those who don't know Provincetown USA has been a mecca for the LGBTQIA+ community since the 1900s. The town attracted many artists and bohemians as people found inspiration and acceptance in the avant-garde freedom the town provided. The ability to experiment with various art forms without fear of judgment meant that Provincetown became an ideal place for the LGBTQIA+ community as everyone can be his, her or their self without fear of being disapproved by others.
As you can imagine they have a lot to celebrate so Provincetown Pride is a huge event! Hence the amount of glitter. I went with the go big or go home theory and as you can see, I went big! 
Pride is also about celebrating - what gets you on the dance floor at Pride? 
My main bop is Katy Perry – Firework and pretty much anything by Pink!
Why do you think it's important to support our friends and colleagues who are part of the LGBTQIA+ community? 
Having "allies" at work (and outside of work) is important to give people who are struggling with whatever issue, help and support and to enable them to find the courage to blossom and thrive and to live their best life.
I was lucky to have a great ally at the start of my career. When I first went into sales management I was still very shy and not confident in my own sexuality. This was holding me back as I was afraid to be myself in front of customers in case they didn't buy from me because of it. The Managing Director and owner of the firm spotted that I struggled with my confidence in certain situations. When I told him I was scared to be honest in case I lost a sale he said 'I'd rather lose a customer and a sale than have you not be yourself.' He was hugely supportive and took me under his wing which helped increase my confidence and allowed me to be my true self and embrace who I was in work.
So what are Marmalade doing to support Pride? 
At Marmalade and Atlanta we're getting behind pride by doing lots of activities and fundraising - including: 
We're running competitions, prizes and fundraising in support of Albert Kennedy Trust - LGBTQ+ youth homelessness charity 
We'll be volunteering throughout the year for LGBTQ+ charities and supporting our local community 
Hosting internal events to celebrate the LGBTQ+ members of staff we have at Marmalade and Atlanta, like our 'Kitchen Disco' on the 17th June - a great way to get everyone in Marmalade and Atlanta together (virtually, of course) to celebrate Pride! 
Planning to raise money throughout the year for dedicated LGBTQ+ charities 
Raising awareness and showing our support
If you would like to have your say, or have charities and fundraising events you'd like to tell us more about please send us an email